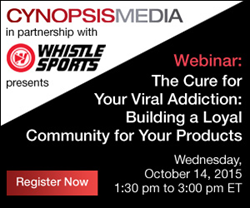 New York, NY (PRWEB) September 23, 2015
The latest Cynopsis Sports Webinar, in partnership with Whistle Sports, Beyond Viral Addiction: Building a Loyal Community for Your Products, will demonstrate how to move beyond quick boosts and develop a long-term relationship with your audience, providing detailed blueprints for a sustainable audience relationship. Featuring some of the most established brands - not just in sports, but across entertainment verticals - speakers will discuss best practices in content, engagement, and video to show you how to increase ROI, deepen connection and sharpen business branding.
"User engagement continues to be redefined as platforms evolve," said Chris Pursell, Cynopsis Media's Director of Sports Content. "Staying ahead of the curve by learning how to maintain your relationships and increase impact is only becoming more important for audience growth."
Pursell will host this free webinar on October 14, along with the following speakers: Samir Chaudry, President and Co-Founder of The Lacrosse Network; Kevin Curry, Healthy Food Blogger for Fit Men Cook; Eric Korsh, Director, Mashable Studios at Mashable; Paul Rabil, Pro Lacrosse Player for the NY LIzards & Team USA Member; Brian Selander, EVP at Whistle Sports.
Attendees will leave this 90-minute webinar with the know-how to:

Develop a content plan that speaks to your audience base
Understand what types of video will help drive conversation and engagement with fans
Get the most out of your partnerships
Feed the millennial appetite
Utilize the best social platforms for your content
In addition, the session will allow for real time Q&A's to ensure specific questions are answered. Register today for the Cynopsis Sports webinar "Beyond Viral Addiction: Building a Loyal Community for Your Products."
All Webinar attendees will receive full access to speaker presentations for 1 year, along with a certificate of completion. Questions? Contact Trish Pihonak at trish(at)cynopsis(dot)com.
About Cynopsis Media: Cynopsis Media is a division of Access Intelligence LLC. The Cynopsis Media family of products includes Cynopsis, Cynopsis Digital and Cynopsis Sports daily e-publications, weekly Cynopsis Jobs Advantage e-publication, Special eReports, Event/Summits and a strong database of Classifieds and more. Visit cynopsis.com.
###