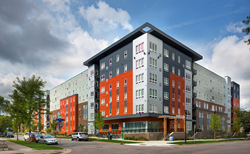 Offering in-house management ensures that our expertise is provided to our student housing communities
Marlton, NJ (PRWEB) September 23, 2015
The Michaels Organization, a national leader in residential real estate, has launched a student housing management company that provides property and asset management services to its growing portfolio of on-campus and off-campus housing.
University Student Living Management becomes the ninth company in The Michaels Organization's family of companies, following the creation of University Student Living in 2013, now one of the country's most active developers of purpose-built student housing with a portfolio representing over 3,313 units and 8,019 beds.
"Our student housing portfolio—and our pipeline for both on- and off-campus communities—is expanding rapidly," said John J. O'Donnell, president of The Michaels Organization. "Offering in-house management ensures that the operational and management expertise we've been know for these past 40-plus years is provided to our student housing communities," O'Donnell said.
Joseph Coyle, president of University Student Living, also serves as president of University Student Living Management.
"Our management team is dedicated to enriching the lives of residents and creating a respected community asset," said Coyle. "We are committed to aligning our communities to the unique culture of each campus and offering all our residents a positive living environment that enhances their educational experience," he said
.
Currently, USL Management provides services to 4,394 residents. By 2016, that number will grow to over 6,000 residents in a portfolio of on-campus and off-campus communities.
In addition to Coyle, USL's leadership team includes Heather Sizemore, Vice President of Operations, and Barrie Nichols, Vice President of Sales and Marketing, both of whom have a proven track record of success, combined with a passion for the student housing industry. Sizemore is responsible for the execution of strategic initiatives and operational efficiencies of the company's on-campus and off-campus portfolio. Nichols oversees the marketing strategies, leasing goals and related budgets for the company's on-campus and off-campus assets
About The Michaels Organization
University Student Living and University Student Living Management are companies of The Michaels Organization, a family of nine independent but integrated companies dedicated to excellence in affordable, mixed-finance, military, and student housing. Serving more than 115,000 residents in 376 communities across 35 states, the District of Columbia, and the U.S. Virgin Islands and with a development portfolio valued in excess of $4 billion, The Michaels Organization is a national leader in the residential real estate industry, with full service capabilities in development, property and asset management, construction, mortgage finance, and tax credit syndication.