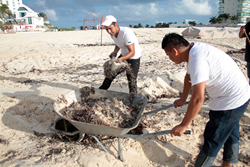 Cancún, Quintana Roo, México. (PRWEB) September 22, 2015
The cleanup and preservation of beaches is part of the business philosophy that Sunset World conveys and inspires to all its collaborators and guests, which is reinforced by the active participation in events such as International Coastal Cleanup Day.
Iris Rivera, Media Executive for Sunset World, pointed out that the aim is for the staff in every area of the company, whether administrative or operational, to actively participate in our endeavor to protect the environment. "Tourists come attracted by the cleanliness and beauty of the beaches at Sunset hotels and keeping them that way is everyone's job", she explained.
From a very early hour this Sunday September 20th, more than 200 people, which included collaborators and guests, gathered at the beach at Sunset Royal hotel and one of the very first activities that took place was to learn about some of the problems that affect the beaches during certain times of the year.
Astryd Coutiño, Corporate Director of Human Resources at Sunset World, added that activities such as beach cleanups foster teamwork and integration among the collaborators of different departments and companies that make up the organization. "We are motivating and creating awareness among staff members at every level of the company, management and operations staff, to clean up beaches.
On this occasion clean up squads were created to bring staff together, which is useful to unite people under a common goal and to create bonds of trust between collaborators and their bosses, as people are all truly committed to caring for the environment," she stated.