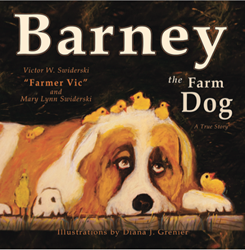 This is a true story about my husband, Vic, and his farm dog, Barney. All of the animals in the book are real and most of the pictures in the book are actual pictures taken on the farm
St. Ignace, Mich. (PRWEB) September 22, 2015
After being diagnosed with multiple sclerosis, Mary Lynn Swiderski's husband, Vic, shared with her many stories about his farm animals and his time as a farmer. Together, they decided to write a book and after his death, "Barney the Farm Dog, a true story" was published.
"Barney the Farm Dog, a true story" shares the story of Barney, Vic's dog, who is introduced to all of the farm animals. Throughout the book, Barney makes friends with all of the animals and finds various adventures.
"This is a true story about my husband, Vic, and his farm dog, Barney. All of the animals in the book are real and most of the pictures in the book are actual pictures taken on the farm," Swiderski said.
As a former educator and her husband a farmer and business owner, the Swiderski's made the perfect duo for this lighthearted children's book. Hoping to provide understanding about multiple sclerosis, Swiderski is optimistic that her book will open up conversation about the disease.
"I wanted to tell Vic's life story as he struggled with multiple sclerosis and to make more people aware of this disease," Swiderski said.
By reading "Barney the Farm Dog, a true story" individuals are not only learning about farming and animals, but also are financially supporting the Michigan Multiple Sclerosis Society, as partial proceeds from this book are donated. Come join in on Barney's adventures.
For more information, visit: http://www.barneythefarmdog.com
"Barney the Farm Dog"
By: Mary Lynn Swiderski
ISBN: 978-1-490876979
Available in softcover and e-book
Available on Amazon, Barnes & Noble and WestBow Press
About the author
With over 25 years as a 4-H, health and nutrition educator with Michigan State University Extension, Mary Lynn Swiderski retired in June 2014. With degrees in journalism and family life education, Swiderski has always enjoyed writing, poetry, books, and music. After her husband, Vic, was diagnosed with multiple sclerosis, Swiderski wanted to bring awareness about the disease. As her first children's book, Swiderski tells the story of her husband, Farmer Vic, and his dog Barney. After purchasing "Barney the Farm Dog, true story" some of the proceeds go the Michigan Multiple Sclerosis Society. Currently residing in St. Ignance, Swiderski enjoys telling of her story and reading.
# # #
**For Immediate Release**
For review copies or interview requests, contact:
Katie Wenclewicz 317.602.7137 kwenclewicz(at)bohlsengroup(dot)com