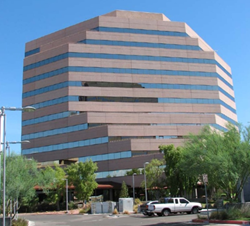 "Security Title Plaza is an amenity-rich property and the move represents the firm's continued strength across all markets."
PHOENIX (PRWEB) October 05, 2015
Manning & Kass, Ellrod, Ramirez, Trester LLP has signed a lease for 16,360 square feet of office space at Security Title Plaza (3636 North Central Ave) in downtown Phoenix. Los Angeles-based Manning & Kass has been located at 6909 E. Greenway Prkwy in Scottsdale since 2009.
Tiffany Winne, Senior Vice President in Savills Studley's Phoenix office and Luke Raimondo, Corporate Managing Director in Savills Studley's downtown Los Angeles office represented Manning & Kass in the transaction. Mark Stratz and Scott Baumgarten of DTZ represented the landlord, Reven Capital, in the transaction.
"Well-established and respected law firm, Manning & Kass, is looking forward to relocating to the heart of downtown Phoenix," said Winne. "Security Title Plaza is an amenity-rich property and the move represents the firm's continued strength across all markets."
The 12-story, 219,032-square-foot office building is Energy Star labeled and sits on 4.2 acres in Maricopa County.
About Savills Studley
Savills Studley is the leading commercial real estate services firm specializing in tenant representation. Founded in 1954, the firm pioneered the conflict-free business model of representing only tenants in their commercial real estate transactions. Today, supported by high quality market research and in-depth analysis, Savills Studley provides strategic real estate solutions to organizations across all industries. The firm's comprehensive commercial real estate platform includes brokerage, project management, capital markets, consulting and corporate services. With 27 offices in the U.S. and a heritage of innovation, Savills Studley is well known for tenacious client advocacy and exceptional service.
The firm is part of London-headquartered Savills plc, the premier global real estate service provider with over 27,000 professionals and over 600 locations around the world. Savills plc is listed on the London Stock Exchange (SVS.L).
For more information, please visit http://www.savills-studley.com and follow us on Twitter @SavillsStudley and LinkedIn.