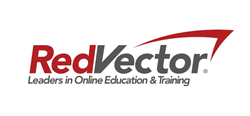 We believe strongly that the 5S methodology of workplace organization and housekeeping is an integral part of lean manufacturing and continuous improvement processes
Tampa, FL (PRWEB) September 23, 2015
RedVector, the leader in eLearning and workforce training solutions for the industrial manufacturing industries, has launched online training covering the 5S system of workplace organization, stability and standardization in an effort to help organizations optimize productivity and reduce waste in the manufacturing process.
RedVector's new training provides an overview of 5S (the simple, practical approach to improvement that can bring results in a short time) and covers the 5S steps of Sort, Set-in-Order, Shine, Standardize and Sustain.
"We're excited to add 5S courses to our industrial skills training offerings," said RedVector Product Director Dan McGonegle. "We believe strongly that the 5S methodology of workplace organization and housekeeping is an integral part of lean manufacturing and continuous improvement processes."
RedVector 5S Training Course List:
The 5S System: An Introduction to 5S
Learn to carry out basic 5S activities to organize and standardize the workplace, promote safety, improve work flow, reduce inventory waste, and gain control of your work area.
The 5S System: Workplace Scan and Sort
Learn to complete a workplace scan, remove excess and unnecessary items through the Red Tag Technique, and sort.
The 5S System: Set in Order and Shine
Learn to organize your workspace and "Shine," or maintain and clean your equipment to minimize machine downtime.
The 5S System: Standardize and Sustain
Learn how to maintain and monitor the conditions that resulted from activities of the first three S's through standardization and develop new habits to sustain the 5S System.
The 5S System: 5S for Safety – New Eyes for the Shop Floor
Understand and follow the 5S System for improved safety in your workplace.
About RedVector
RedVector sets the standard for excellence in online continuing education and training for the architecture, engineering, construction (AEC), industrial manufacturing and facility management industries and holds nearly 100 state and national accreditations. RedVector offers individual courses as well as large-scale corporate training solutions featuring customizable and easily accessible online universities with a full range of tracking and reporting features. With an online library exceeding 2,250 courses authored by more than 100 subject matter experts, RedVector serves professionals and organizations in all 50 states. The recipient of numerous community honors and industry awards, RedVector was founded in 1999 and is headquartered in Tampa, Florida. For more information, call 1-866-546-1212 or visit http://www.RedVector.com.