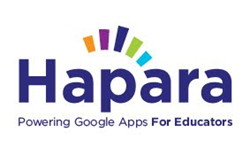 Poole, Dorset (PRWEB UK) 22 September 2015
Transforming cloud platforms into a connected teaching and learning environment which has helped students, teachers, and schools, from over 40 countries, reach their full potential, Hapara is a Californian-based enterprise that will be exhibiting at 2016's technology education show, Bett.
Hapara was initially founded between friends Jan Zawadzki and Tony Kong, for the PT England School in New Zealand. Starting with Hapara's 'Teacher's Dashboard', which clearly displays a class' activity for every child and subject, Hapara's inspiring digital education tools grew by word of mouth, and the company is now a renowned influencer in the world of education technology.
This is not the first time the company has exhibited at the London based show, and will in-fact be returning for the fourth year running, to showcase their Google-based technology and unbeatable services.
Bett, which takes place in January 2016, is the world's leading learning technology event, and brings educators and tech creators together under one roof, providing all those in the education sector with the ultimate combination of knowledge, creativity, and inspiration.
Alongside the exhibition, the four day event features a series of seminars and 'summits', designed to help visitors develop new strategies and adapt to changes in the education landscape. There will also be the Bett Awards; a celebration of the inspiring creativity and dedication that can be found throughout technology for education.
Hapara will be exhibiting on stand F288, with a Prestige Events System from the exhibition stand-specialists, Quadrant2Design. Featuring high-level branding, seamless effect graphics, integrated showcases and LCD screens, the modular system has served the company well at previous shows, and continues to provide a beautiful, impactful stand, while being environmentally sustainable.
Upon their stand, Hapara will be featuring their new assignment and project management tool, Workspace, and speaking about their renowned Dashboard and Highlights tool as well.
To discover more about Hapara and Workspace, visit http://www.hapara.com, tweet @hapara_team, and like Hapara on Facebook.
To register for Bett, which takes place from 20th – 23rd January 2015 at London's ExCel, visit http://www.bettshow.com.
For a complimentary design consultation from Quadrant2Design, contact designteam(at)quadrant2design(dot)com.