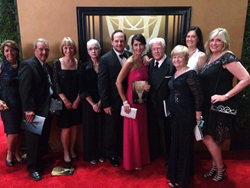 Travel agents have been a major contributor to our strong growth over the last 5 years.
Seattle, WA (PRWEB) September 22, 2015
Windstar celebrated the winners of its 2015 Rising Stars Challenge this weekend at the 67th Annual Primetime Emmy Awards in Los Angeles, California. The top-selling travel agents were treated to a VIP red carpet weekend in Hollywood featuring tickets to the awards show, hotel accommodations at the Ritz Carlton, fine dining and more. The agents were hosted by Joe Duckett – Windstar's Vice President of Marketing & Sales.
The four winners of Windstar's 2015 Rising Stars Challenge are as follows:

Phyllis Murray – Avoya Travel
Jim Eagan – Cruise Planners
Laura Dodson – The Cruise & Travel Specialist
Katie Sitton – The Cruise and Tour Center
The winners were selected based on sales results of the Windstar 2015 Rising Star Challenge and graduation from Windstar's Travel Agent Academy.
"Travel agents have been a major contributor to our strong growth over the last 5 years. We thought it only fitting to recognize some of our top stars with a star-studded event like this" said Duckett.
To create the Rising Stars weekend experience, Windstar partnered with sister brands AEG, one of the leading sports and entertainment presenters in the world, and Ritz Carlton Los Angeles to create a VIP red carpet weekend in Hollywood. Winners and their guests were treated to tickets to the 2015 Emmy Awards, accommodations at the Ritz Carlton, and complimentary air fare, dining and transfers to the airport.
For a behind-the-scenes look at the weekend, visit our blog.
About Windstar Cruises
Windstar Cruises operates a fleet of small luxury cruise ships known for its intimate yacht style experience and unique voyages to the world's best small ports and hidden harbors. Its three recently renovated sailing yachts carry just 148 to 310 guests and cruise to 50 nations, calling at 150 ports throughout Europe, the South Pacific, the Caribbean, and Central America. In May 2014, Windstar launched Star Pride, the first of three newly acquired power yachts. In May 2015 the company launched Star Breeze and Star Legend. The power yachts, with a capacity of 212 guests each, double the size of Windstar's fleet, making the company the market leader in small ship cruising with 300 or fewer passengers, with a total of 1,242 berths. In 2014 Windstar was named Condé Nast Traveler's World's Best Small Ship Cruise Line.
For more information including rates and itineraries, contact a travel professional or call Windstar at 800.258.7245, or visit http://www.windstarcruises.com.