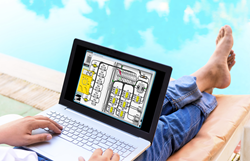 Employers are now able to offer the courses through distance learning, and online courses, as well as other forms of instructor-led training.
Ottawa, Ontario (PRWEB) September 24, 2015
Simutech Multimedia—the global leader in simulation-based electrical troubleshooting training software—today announced the release of Transit, the newly designed compliment to its enterprise version of Troubleshooting Skills Training System. Transit is a cloud-based,electrical troubleshooting training system permitting users to log in from anywhere, meaning users will be able to work through the simulation-based problem-solving training and simulations while balancing the demands of work, family and travel.
"We are very excited about Transit," states Warren Rhude, CEO of Simutech Multimedia. "We listened to our clients—they were looking for programs that are easy to implement, cost-effective and reduced IT costs. Additionally, they wanted the flexibility and accessibility to work from almost anywhere. Transit covers all of this, and more."
The Southeastern Pennsylvania Transportation Authority (SEPTA) implemented Simutech's Troubleshooting Skills as part of their core training curriculum. Recognizing that upgrading systems with automation and new technologies would require general predictive maintenance programs and electrical troubleshooting, SEPTA trainers create customized tests using Simutech's Course Manager to measure the progress of staff and to train trades professionals who seek to become technicians and senior technicians.
"I realize the value of having our technicians go through the entire troubleshooting program," says Rich Agard, Technical Instructor, Light Rail in the Technical Training Center at SEPTA, "The combination of education, safety training and simulations to practice their troubleshooting skills, allows our technicians to work much more effectively because they're not using a trial and error method to solve a problem."
In addition to automatic updates to all of the courses, instructors now have access to online user guides. However, the biggest change is the Simutech Course Manager (SCM). The SCM is an enhanced evaluation system, allowing trainers to manage, evaluate, track, assess and report on user progress. It also records and retains user data and creates completion certificates; a powerful tool for any trainer and business looking to get a better grasp on the continuing education of its workforce.
"The SCM has been enhanced with several new tools for instructors," says Rhude. "Employers are now able to offer the courses through distance learning, and online courses, as well as other forms of instructor-led training. With the integrated tracking and reporting tools, trainers can access centralized records of those who participated to analyze which areas need improvement. This allows the trainers to provide specific information and coaching to address skill deficiencies and knowledge gaps on a per person basis no matter where the training takes place."
For more information about Simutech, its products or its new Transit solution, visit Simutech Multimedia today.
About Simutech Multimedia
Since 1995, Ottawa-based Simutech Multimedia, creator of the Troubleshooting Skills Training System, helps companies get the most out of their equipment and reduce downtime by providing simulation-based training software that teaches people how to troubleshoot electrical problems. Simutech Multimedia's courseware offerings include: Troubleshooting Electrical Circuits (TEC), Troubleshooting Control Circuits (TCC), Troubleshooting Motor Circuits (TMC), [Troubleshooting PLC Circuits (PLC), and Troubleshooting Industrial Controls (TIC).
For more information on Simutech Multimedia, visit http://www.simutechmultimedia.com or call 866.942.9082.