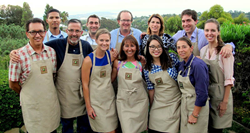 We have worked so hard to establish an exciting and unforgettable brand that speaks to companies and foodies everywhere
San Diego, CA (PRWEB) September 23, 2015
San Diego based company, Lajollacooks4u, is in the national spotlight for specialized cooking classes and exceptional team building events. Renowned companies from all over the world, like Hewlett-Packard, Illumina, Price Waterhouse, and Domino Sugar, have all sought out and traveled to Lajollacooks4u to participate in an experience unlike any other.
Each event begins with a palette-stimulating olive oil and salt tasting competition in the garden that adjoins Lajollacooks4u's indoor and outdoor kitchen. The initial exercise is an enticing warm-up that allows team members to break the ice while enjoying a glass of wine and a breathtaking panoramic view of the Pacific Ocean.
As the group moves towards the kitchen, members are divided into teams where they collaborate in creating several different menu items. Lajollacooks4u's founder and culinary expert, Chef Jodi Abel, guides and educates each team on professional culinary techniques, skills, and farm-to-table cuisine. Participating teams are encouraged to compete against each other to produce the top dishes judged by taste, presentation, and teamwork. Team members even vote on the colleague most deserving of "Top Chef" – a title bestowed upon the most involved, creative, and most engaging participant.
When the competition portion draws to a close and the winners are crowned, company members reconvene at the dining table to enjoy the fabulous 4-course meal they prepared, complete with a wine pairing for each gourmet dish. Be it in the comfort of Chef Jodi's elegant dining room or on her outdoor Tuscan-inspired terrace, guests laugh and mingle over their experiences and the delicious creations of their fellow team members. Guests leave Lajollacooks4u with a satisfied palette and a newfound love for cooking. They also appreciate their time was well spent establishing a deeper unity with colleagues.
The Lajollacooks4u hands-on cooking and dining experience is undoubtedly an established venue for building leadership culture and team morale. The success of these group events has garnered over 200 five-star reviews and a 5-Star Certificate of Excellence on TripAdvisor. Lajollacooks4u has also established, a partnership with Expedia, the global travel site. Chef Jodi is more than pleased with the continued success of lajollacooks4u and the inspiring feedback from past and present guests: "We have worked so hard to establish an exciting and unforgettable brand that speaks to companies and foodies everywhere," said Chef Jodi. "
The autumn and winter seasons are an excellent time to visit Lajollacooks4u. Guests are offered an exciting alternative for their traditional seasonal event planning. As Lajollacooks4u's abundant 5-star reviews demonstrate, Chef Jodi's unique and intimate cooking school is the perfect place to host end-of-the-year company events, team-building holiday parties, and even large family gatherings.
About Lajollacooks4u:
Lajollacooks4u, founded in 2008, provides an ideal activity for corporate team building, couples and any foodie looking for a unique cooking and culinary experience in a magnificent setting overlooking the Pacific Ocean. Based in La Jolla, a suburb of San Diego, CA, Lajollacooks4u has enjoyed record growth since its inception and has been ranked the number one attraction in La Jolla on the popular travel review site, Trip Advisor. For more information, contact Jodi Abel at jodi@lajollacooks4u.com or phone 1-858-752-4980
Lajollacooks4u customizes all events to meet the desires and needs of the organization. For reservations, contact Jodi Abel, or visit Lajollacooks4u's website at http://www.lajollacooks4u.com