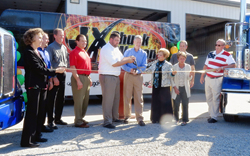 It's all about taking care of the customer.
Lafayette, Indiana (PRWEB) September 22, 2015
"It's all about taking care of the customer," says Eric Jorgensen, JX Enterprises President and CEO, as he welcomes guests to the Grand Opening of the company's 17th location in Lafayette, Indiana. "We have high expectations for this location."
The podium at Wednesday's event was situated between two blue Peterbilt trucks, a traditional 389 model and the aerodynamic 579. The color blue nods to the company's 45 years of family ownership and operation. Also set between the heavy-duty trucks was the company's food truck, the JX Chuck Wagon.
Customers, as well as local community members, business leaders, city officials, and JX Associates, attended the Grand Opening. Speakers at the event included Resa Hodnett, Program Manager of Membership with Greater Lafayette Commerce (GLC), Cindy Murray, City Clerk, State Rep. Sheila Klinker (D-Lafayette), Eric Jorgensen, JX President and CEO, and Dan Ryan, JX Peterbilt General Manager.
"Our whole idea here is to take care of the local trucker and the regional trucker, everyone in about an hour of this location. The goal is to better support the customer and keep them on the road longer," says Ryan. The branch's parts department has been operational since the beginning of June with daily parts deliveries to customers. All JX locations boast an extensive delivery system with knowledgeable parts professionals and quick access to over 200 OEM parts vendors.
The service department at JX Peterbilt - Lafayette is set to open October 5, at 8 a.m. In preparation for the department's opening, the branch is hiring diesel technicians who are being trained at the JX Peterbilt - Indianapolis dealership. In order to transfer in experienced shop leaders, the technicians are being trained on the product and procedures before starting.
During the formal presentation, Jorgensen and Ryan were presented with a Grand Opening Certificate from Mayor Tony Roswarski, the business's first dollar of profit from the GLC, and a Commemorative Proclamation from the State of Indiana by Rep. Klinker.
"We are delighted you are investing in Indiana," says Rep. Klinker, "and are delighted that you chose the Lafayette area."
About JX Enterprises
JX Enterprises was founded in 1970. Headquartered in Hartland, Wis., the company operates 17 Peterbilt medium and heavy-duty truck dealerships throughout the Midwest with locations in Appleton, Green Bay, Madison, Milwaukee, Waukesha, and Wausau, Wisconsin; Grand Rapids, Michigan; Bloomington, Bolingbrook, Champaign, Elmhurst, Lansing, Rockford, and Wadsworth, Illinois; and Fort Wayne, Indianapolis, and Lafayette, Indiana. The JX Truck Center location in Wausau showcases Volvo trucks, service, and parts in addition to Peterbilt; and JX Hino - Chicago (Bolingbrook) showcases Hino trucks, service, and parts. JX is known for its ability to assist customers by providing transportation solutions that maximize results and fit their long and short-term goals. The company offers new and pre-owned truck sales, as well as a full array of financing, leasing, rental, parts, and repair services.