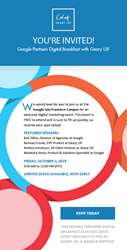 It's our duty and prerogative to educate our clients and our industry
San Francisco, CA (PRWEB) September 24, 2015
As a Google Partner, digital marketing agency, Geary LSF, has teamed up with the search giant to host an exclusive educational workshop at the Google San Francisco Headquarters. The event, which is the second of its kind sponsored by Geary LSF, will highlight new innovation at Google, omni-channel marketing strategies for B2B and B2C companies alike, and holiday trends and insights for 2015. The event, which is free to Geary LSF guests, is expected to reach capacity.
Presenting at the Google Partners Digital Marketing Breakfast from Geary LSF will be Executive Vice President of Product, Ramsay Crooks. "Geary LSF's mission is ultimately to drive business success for each of our clients. To that end, we must deliver the most relevant and effective solutions that the digital advertising marketplace allows us to provide. We have to constantly innovate on behalf of our clients and, through our strong partnership with Google, we have access to tools and insights that allow us to fulfill our mission." Additionally, when asked about the upcoming event, Mr. Crooks stated, "As a digital marketing agency, we believe in a consultative and insights-informed approach when working with our clients. We expect to perform as an informed, mindful, and strategic extension of each client's marketing department. Their goals are our goals. Their challenges are the challenges we face. As such, it's our duty and prerogative to educate our clients and our industry on the latest technologies and tools available. This event is one way in which we're able to do that."
As a Google Partner Agency, Geary LSF is recognized as an agency that can be trusted. The Google Partners program recognizes companies that excel in Google products like AdWords and Analytics, and have healthy businesses, happy customers and follow industry best practices. Additionally, the direct access to Google that Geary LSF is provided, allows them to stay on top of what's going on with Google and provide the very best strategic insight to their clients.
For more information about Geary LSF, their work and their services, please visit GearyLSF.com or contact a representative of the agency at marketing(at)gearylsf(dot)com. To learn more about the Google Partners program, visit their website here.
About Geary LSF
Geary LSF is a full service digital marketing agency headquartered in San Francisco, with additional offices in San Diego, Chicago, Boston, Philadelphia and St. Louis. Specializing in an omni-channel marketing approach, the team turns digital ambitions into business results for more than 450 brands worldwide including: Bumble Bee Foods, Target, Aramark and several others. For more information, please visit http://www.gearylsf.com.