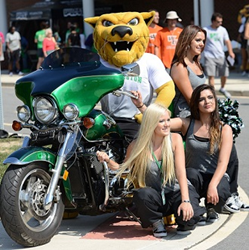 New Castle, Del. (PRWEB) September 23, 2015
Wilmington University Wildcat Pride Week kicks off on Sunday, September 27, with the Green and White Spirit 5K Run/Walk in Glasgow Park, located just off Route 40 in Newark, Delaware. This event is open to all Wildcat runners and walkers. The community and leashed pets are welcome to participate as well.
The cost for the 5K is $15 for each participant.
Participants can pre-register at the Green and White Spirit Run/Walk web site or register at the event. Click here to pre-register online. Registration on the day of the event will begin at 9:00 a.m. at Glasgow Park. Runners and walkers can register as teams or as individuals.
This family and pet-friendly 5K is the perfect start for Wildcat Pride week. Prizes will be awarded following the race for the fastest overall male and female finish times in each age group, the most spirited male and female participants, the most spirited team -- even the most spirited baby carriage and costumed pet.
A week full of festivities for alumni and students!
Starting Monday, September 28, Wildcat Pride will shine through special activities all week long:
Monday, September 28 - Homecoming Kick-Off Party in the Pratt Student Center from 7:00 p.m. to 9:00 p.m. All are invited to enjoy plenty of food and beverages as they meet up and network and play a variety of games for special prizes.
Tuesday, September 29 – The first ever Wildcat Car Show will be held in the Pratt Student Center Parking lot from 12:00-2:00 p.m. Registration is required for alums and students to enter their cars. Attendees will vote for their favorite car. Winners will receive a free tailgating spot during the Homecoming festivities on October 3. Food and beverages will be available at the show.
Wednesday, September 30 – A Wildcat Pride Ice Cream Social will be held in the Pratt Student Center from 12:00-2:00 p.m. Students can meet up with many of the University's clubs and organizations and learn how to get involved. Frozen yogurt and ice cream will be served.
Thursday, October 1 – Lip Sync & Karaoke Night! Put on your own show at the Pratt Student Center from 6:00-8:00 p.m. Pick your favorite song and either lip sync or sing it in your best karaoke voice. Prizes will be awarded to the top performers. Food and refreshments will be served.
Friday, October 2 – "Paint the Night Green and White" is a networking event that is open to alumni, students, faculty and staff to network and mingle upstairs at the World Café Live at Queen, 500 North Market Street in Wilmington from 6:00-8:00 p.m. Cost is $10 per person – WilmU student admission is free. There will be a keynote speaker, business and community leaders, alumni and representatives from Career Services, all available to talk with attendees, answer questions and make those important job search connections. Attendees will enjoy great food and beverages throughout this event.
Saturday, October 3 – 2015 Homecoming games and tailgating will take place at the Athletic Complex at 1365 Pulaski Highway (Route 40) in Bear from 8:30 a.m. to 6:00 p.m.
The parking lot opens for tailgating at 8:30 a.m. Participants must pre-register to tailgate. The cost is $25 per space. All tailgate spaces are assigned on a first-come, first-served basis. Judges will be on hand this year to award prizes to tailgaters displaying the most WilmU Wildcat spirit. Click here to pre-register.
Attendees can cheer on WilmU sports teams, beginning with a volleyball game, then the WilmU Women's Soccer Team will take on Caldwell College at 12:30 p.m. The Men's Soccer Team will also meet Caldwell College on the field at 3:00 p.m.
Plenty of food and much more fun!
Each attendee will receive 3 free food tickets upon entry to the Athletic Complex. Additional tickets will be available for purchase for delicious items from Wilmington's famous food trucks and vendors:

There will also be plenty of fun, family-friendly activities, including:

Scarecrow making
Tie-dying
Face painting
Caricature artist booth
Photo booth
Video games and more!
As the week winds down …
Closing out this year's Wildcat Pride week, we invite our alumni to once again enjoy the fun and benefits of "WilmU Around Town" Sunday, October 4. Show your special ticket and receive discounts on admission and more at our area museums and entertainment venues and restaurants. A list of participating locations will be provided when you receive your information packet.
Click here for more information about Wilmington University 2015 Wildcat Pride Week and Homecoming or contact Alumni Affairs: stacey.b.stickel(at)wilmu(dot)edu or call (302) 295-1174.
About Wilmington University
Wilmington University is a private, nonprofit institution committed to providing flexible, career-oriented, traditional and online associate, undergraduate, graduate and doctoral degree programs. Ranked as the third fastest growing doctoral institution in America 2003 – 2013 by The Almanac of The Chronicle of Higher Education, affordable tuition, academic excellence and individualized attention are hallmarks of the University that enable greater student success in their chosen careers. For more information, contact Wilmington University at 302-356-INFO (4636), via email at infocenter(at)wilmu(dot)edu, or visit the wilmu.edu website.