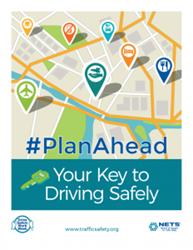 Highway fatalities are higher for this first half the year, for the first time since 2008, so it's critical for drivers not to become complacent about their own safety. -- Brian Kinniry, CEI
Trevose, PA (PRWEB) September 23, 2015
The CEI Group, Inc. (CEI) urged fleets nationwide today to participate in the Drive Safely Work Week campaign next month. Sponsored by the Network of Employers for Traffic Safety (NETS), the annual campaign is being conducted October 5 – 9 this year. CEI is one of seven members of NETS' Fleet Safety Sponsor Program.
The theme for the campaign, the organization's 19th, is "#Plan Ahead: Your Key to Driving Safely." NETS has created an online toolkit to help fleets drive home the safety message each day of the week. The toolkit is available free, online at NETS' website (http://www.tafficsafety.org). It consists of such items as a campaign planner with suggested activities, a campaign launch letter, ready-made daily email blasts to drivers, posters, web banners, and handouts.
"Highway fatalities are higher for this first half the year, for the first time since 2008, so it's critical for drivers not to become complacent about their own safety," said Brian Kinniry, CEI's senior director of strategic services and safety. "Studies show driver error is responsible for more than 90% of all traffic accidents. This year's disturbing trend in traffic fatalities underscores the need for fleets to step up their safety communications."
The campaign launch letter addresses drivers with these words of advice:
"This year's campaign, #PlanAhead: Your Key to Driving Safely, underscores the fact that planning may be the most critical leg of any journey, whether that journey takes place on the job or off. Emphasizing the importance of advance preparation, the campaign will help you to minimize risks on the road and offer resources to help you become a better planner for both business and personal travel.
"The daily areas of emphasis will help you:

Remember to take time to plan your journey – even those that feel routine;
Prepare for driving situations that take you into unfamiliar areas;
Take precautions to ensure you're driving with a clear head;
Learn to navigate the changes we all experience as we age and how they may affect driving; and
See some important reasons to plan ahead when it comes to driving situations that involve family members."
About NETS
Founded in 1989, the Network of Employers for Traffic Safety (NETS) is an employer-led public-private partnership dedicated to improving the safety and health of employees, their families, and members of the communities in which they live and work, by preventing traffic crashes that occur both on and off the job. For more information on NETS, visit http://www.trafficsafety.org.
About CEI
CEI, a fleet driver management company is a leading provider of technology-enhanced vehicle accident, driver safety and fleet risk management services. Its provider network consists of some 4,000 collision repair shops in North America, and includes nearly 1,000 truck collision repair centers. Its customers include self-insured, commercial, and institutional and government fleets, directly and through alliances with fleet leasing companies. CEI also provides vehicle direct repair program outsourcing to leading property and casualty insurance companies.
Founded in 1983, CEI has headquarters near Philadelphia, PA, and field sales offices in Trevose, PA, Tulsa, OK, Atlanta, GA, and Minneapolis, MN. In 2000, CEI launched its DriverCare™ solution, which include fleet risk management, MVR ordering and compliance, on-line and behind-the-wheel driver safety training and a safety newsletter. For more information about CEI, please visit ceinetwork.com.