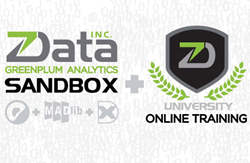 zData's New Greenplum Analytics Sandbox and Online Training portal help expand education and resources within the Big Data community—allowing zData to provide better service and innovation for customers, partners, and engineers. Dillon Woods, CTO
(PRWEB) September 23, 2015
As a long time innovator within the Big Data solutions and services community, zData Inc. is expanding their training and offerings with their Pivotal Greenplum and Analytics Sandbox and the new zData University Online Training Portal — providing educational and open source tools needed to expand and explore Big Data.
zData's new Sandbox combines Greenplum Database with SpringXD and MADlib, Big Data machine learning with SQL for Data Scientists, into an easily downloadable format in the cloud with zData Ambari Extensions or on your personal machine with VMWare or VirtualBox.
Tutorials including video tutorials are offered throughout the Sandbox with the option to enroll in zData's Online Training Portal for full Greenplum Developer Training and other Big Data technology courses including Hadoop, HAWQ, SpringXD, GemfireXD, and Data Lake Concepts. With zData's new Sandbox and training platform you receive the resources and training needed from senior engineers that are not only experts in the field but are well versed in real world scenarios.
zData provides Big Data consulting and solutions for both commercial and enterprise corporations, employing experts in all areas of the field from software engineers to data scientists. They work with top hardware and software providers for on-site and off-site consulting, managed services, trainings, and long term scalable data solutions both on-premise and in the cloud.