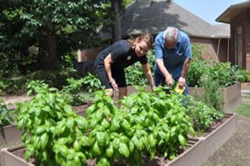 The residents love it. They go out every day and look at how things are growing.
Texarkana, Texas (PRWEB) September 24, 2015
Earl Page moved to Cornerstone Retirement Community in Texarkana, Tex., a few years back from the nearby Mount Vernon area where he and his wife, Phyllis, owned a small farm. Gardening was part of his life back then, and he missed it.
So this year, when Natasha Crabbe, the community's marketing director, approached him and fellow resident Len Lee with the idea of establishing a box garden at the community, it took little convincing to get them on board.
They started in the late spring of this year by planting tomatoes in containers and placing them on the patio area on one side of the main building. Interest among the residents piqued immediately.
Crabbe purchased garden soil and a few raised-bed garden kits, and the three of them worked to assemble and fill with dirt. As planting began, residents began to venture outside to have a look, to weigh in on their favorite plants, and to watch the progress of growth.
Todd Partin, the community's executive director, responded by approving a remodel of the adjoining patio area to add new and comfortable seating, which now beckons an ever growing number of residents to venture outside to enjoy the garden.
"There's a little lady here in her 90's that had a habit of coming down to the hallway beside the patio. She would never go outside before, but she's been out on that patio looking at that garden," said Lee. "It's coaxing people out that never would go outside."
Page says the location of the new garden is perfect for growing the squash, peppers, herbs and five different kinds of tomato plants that have been planted.
"It gets the morning sun and then shade during the midday hot sun, then it gets sun again in the evening. Perfect."
As tomatoes started coming in, a contest arose among residents to see who would pick the first ripe one. Fall tomatoes are coming in now.
"Residents are welcome to pilfer from the garden," said Page, who bragged that "one plant has 76 grape tomatoes on it now."
With the community currently undergoing an extensive remodel, the garden has sparked the idea of adding a pergola to the patio area that will provide shade and lure even more residents outside.
"The residents love it. They go out every day and look at how things are growing," said Lee. "It the best thing that's happened here in 10 years."
###
ABOUT CORNERSTONE: Cornerstone is a member of the Methodist Retirement Communities, a leading non-profit, faith-based system of 10 "healthy living" communities spanning across six Texas locations. With a Christian heritage of serving seniors dating back to 1962, MRC has over 50 years of residential senior living and health care experience. Services include independent living, assisted living, certified memory support, skilled nursing, rehab and home health. MRC is listed among LeadingAge/Ziegler top 100 systems in the country. For more information visit http://www.mrcaff.org