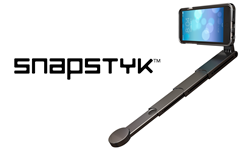 "SNAPSTYK™ is slim, stylish and sturdy, and fits discreetly into your pocket or bag for easy access when it's time to capture that special moment. SNAPSTYK™ is the next product in the evolution of the selfie."
(PRWEB) September 24, 2015
An innovative new startup company, SnapStyk, has created the next product in the evolution of the selfie. SnapStyk officially launched the world's first multifunctional cell phone case and selfie stick in one with a crowdfunding campaign. Their new device, SnapStyk, is available to early backers on Kickstarter for $30, 40% off their estimated retail price of $49.95.
SnapStyk originated from the desire to eliminate the extra mounts and sticks needed to get the best angles and added stability when capturing photos, and replace those with one stylish, slim and convenient solution.
"I was with my son one day and we wanted to take a picture to capture the moment. When I tried to get that perfect angle with my cell phone, it felt awkward and unsteady in my hand. Not being the type to carry around one of those bulky selfie sticks, I searched for cell phone cases with selfie sticks built-in. I was surprised that I couldn't find anything, and that's when I decided to start designing one," said SnapStyk Founder, Jason Sandlofer.
Sandlofer's childhood friend, Adam Rodriguez, known for his acting roles in "CSI: Miami", "Magic Mike XXL", and the upcoming season of "Empire", has recently invested in SnapStyk.
"Adam and I have been friends since we were about 11 years old," said Jason. "We've been close throughout the years. I was telling him about the concept of SnapStyk last year, showing him some of the designs and renderings I've come up with and he got extremely excited about the project. As I progressed, I kept him in the loop and we eventually discussed partnership opportunities. I'm extremely happy to have his support. "
The first SnapStyk cases are made for the iPhone 6 and Samsung Galaxy S6. This durable case provides high quality protection for these devices, as well as a sturdy and stable hold when the stick is fully extended.
The stick on the SnapStyk case extends up to eleven inches. The button on the stick connects to the camera's shutter using Bluetooth technology, which can trigger the cell phone's front-facing and rear-facing cameras. This button also powers on the SnapStyk, which automatically powers off after 30 seconds. The case also features a rotating head, which allows users to capture their photos and videos in either portrait mode or landscape mode.
When not in use, the stick can be retracted and locked back into place, fitting discreetly into pockets or bags. The SnapStyk case also has device control slots, allowing users easy access to all of their controls, ports, microphone and speaker.
For more information visit SnapStyk on Kickstarter or at Snapstyk.com
Hi Res Product Images Here