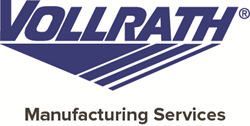 Sheboygan, WI (PRWEB) September 24, 2015
The Vollrath Company, LLC, today announced the launch of a new website for the company's newly branded Vollrath Manufacturing Services (VMS) division, formerly known as Polar Ware Contract Manufacturing.
"Whether it is in the foodservice, industrial cleaning or the manufacturing industry, the Vollrath name is synonymous with outstanding quality, design, and craftsmanship in manufacturing. We believe leveraging the Vollrath brand for our manufacturing services division better represents the high quality products and services we are known for," said Paul Bartelt, Vollrath President and CEO. "VMS offers an in-house engineering team with experience in a variety of industries who have a shared commitment with our customers to bring new product development solutions that improve performance and raise the bar in the industry. Couple this with our depth of manufacturing capabilities, and we offer the complete package."
"Vollrath understands the challenges that come with developing new products. Vollrath Manufacturing Services bring all the advantages of a large OEM with the personalization and rapid response time of smaller organizations. We offer the best of both worlds. Our engineering and manufacturing teams become an extension of our customer's teams, ensuring we deliver quality products on time and within budget," said Jean Horvath, General Manager for the VMS division. "We not only manufacture outstanding components for some of the country's best known brands, but we build partnerships that endure project to project. Our highly engineered solutions not only improve product performance, but also reduce lead times and total cost. And, thanks to our six full-service U.S. based manufacturing facilities, we solve problems in ways typical manufacturers can only dream of."
"We are excited to launch our new website in conjunction with our new name because we think it better conveys the breadth of our services and is a resource tool for anyone that is looking for answers when researching OEM solutions," said Horvath. "Manufacturing professionals can log on at http://www.vollrathmanufacturing.com to learn about VMS' engineering consulting and manufacturing services, including how we deliver our partnership promise."
Vollrath's breadth of manufacturing capabilities, coupled with a deep understanding of a wide variety of industries, results in a strong partner when it comes to component manufacturing. The company's manufacturing capabilities include deep draw, metal stamping, metal fabrication, metal spinning, precision plastic injection molding, and plastic fabrication along with several secondary operations and turnkey solutions such as custom tooling, packaging and inventory management.
About the Vollrath Company
The Vollrath Company, based in Sheboygan, Wis. is a privately held company that leverages its long standing reputation for high quality engineering and manufacturing throughout its business divisions, which include the design, development and manufacture of industry-best foodservice equipment and supplies (Vollrath Foodservice), frozen treat equipment (Stoelting Foodservice), state-of-the-art contract manufacturing (Vollrath Manufacturing Services), industrial washers and electronic cleaning equipment (Stoelting Cleaning Equipment), and wholesale/retail consumer cookware and bakeware. With a collection of exceptional people, industry leading products, and helpful consultative services, Vollrath is assembled for one purpose – to help customers outperform every day. For more information about The Vollrath Company, its products, facilities in the US, Europe, Mexico and China, visit http://www.vollrath.com or search "Vollrath" to find us on Facebook or Twitter. For media inquiries, contact Linda Diedrich at 920-459-5204 or via e-mail at ldiedrich@vollrathco.com.