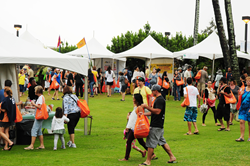 Wailuku, Hawaii (PRWEB) September 24, 2015
When Maui County's largest products show, the 2nd Annual Made in Maui County Festival, opens to the public on November 6 and 7, 2015 at the Maui Arts & Cultural Center in Kahului, the event will boast a larger format with more products, more vendors, more food trucks, and more reasons to buy local.
This week, the Festival's presenters – the County of Maui Mayor's Office of Economic Development and the Maui Chamber of Commerce – announced the final list of vendors who will be participating in this upcoming November event. In total, nearly 150 product vendors and food trucks are confirmed, over 40 of which are new to the event.
Product vendors had to meet certain criteria in order to participate, including having their business based in Maui County. Products being offered for sale had to meet a minimum 51% of their value added in Hawaii. The product mix, quality and creativity value of products were also considered during the selection process.
Last year, the inaugural event attracted over 9,500 visitors and residents and 130 vendors participated. Vendors reported over $300,000 in product sales transactions, over 180 new accounts and wholesale orders closed, and over 1,000 leads for future sales and wholesale accounts generated. This year, the Festival is focused on expanding the event's impact.
"Improving the business environment in Maui County is important to us, and this Festival has been very successful at doing just that," said Maui Mayor Alan Arakawa. "It was a great success last year and it is poised to be an even bigger event this year. It's all part of our efforts to strengthen and diversify our local economy and I encourage everyone to stop by and check out all of our vendors."
"This Festival is more than an annual event – it's all about creating opportunities for our small businesses here at home," said Teena Rasmussen, Director of the Mayor's Office of Economic Development. "In an effort to accommodate more shoppers this year, we've expanded the show to include additional vendors. We also opened the Festival for the first time to the general public on Friday with our Shoppers Preview. Not only will these efforts provide vendors with additional opportunities to promote their products to potential consumers, but it will also help them to connect with potential wholesale and retailer buyers."
"Prior to the 2014 Made in Maui County Festival, our chili pepper water was sold in approximately 28 stores on Maui and Lanai and I worked full-time at another business to make ends meet," said Michelle Jones, Two Chicks In A Hammock co-owner. "After the exposure we received at last year's Festival, our products are now carried in 128 stores statewide including one store in Canada and we picked up a distributor. I now work full-time on the business. The Made in Maui County Festival gave us the kick-start we needed to grow our company."
Companies like Matsumoto Studio were also able to showcase their notecards and stationery to new wholesale clients at the Festival. Their products are now sold in T.J. Maxx, Marshalls and Home Goods.
"The Made in Maui County Festival was not only an absolute success in direct sales and revenue for the day, it was also a fantastic opportunity to bring more brand awareness for our products which allowed us to connect with new and existing customers, and helped us establish further credibility that we are truly a made in Hawaii product," said Shaun Bayles, co-owner of Chic Naturals.
While the business side of the event is one that Festival organizers are taking seriously, the general public can expect some serious shopping with a wide variety of products offered for sale.
The Shoppers Preview on Friday, November 6th, from 2 pm to 6 pm will give shoppers a one-day head start. Attendees will also enjoy the Festival's opening ceremonies and VIP reception. Only 500 tickets will be sold to the general public for Friday's event. Tickets are $35 per person and are available at the Maui Arts & Cultural Center Box Office or (808) 242-SHOW (7469) or MauiArts.org.
On Saturday, November 7th, the Made in Maui County Festival will be open from 8 am to 4:30 pm. Public admission is $5 (at the gate), children 12 and under are free. Saturday's festivities will include demonstrations, a fashion show, food trucks, and prize drawings. The first 2,000 attendees will receive a free Festival tote bag.
"The 2014 event reaffirmed what we already knew, that there is a tremendous demand for made in Hawaii products produced by Maui County businesses," said Pamela Tumpap, President of the Maui Chamber of Commerce. "Those who attend this year's event are in for a real treat with the opportunity to shop for a myriad of products produced by talented entrepreneurs. Best of all, you'll be helping to grow these businesses while investing in our islands' economy."
Vendors who will be participating in the 2nd Annual Made in Maui County Festival this November are:
808 Clothing
808 Shells
Aloha Botanicals Maui
Aloha Letterpress
Aloha Spiced Cacao
'Alohi Images Maui
Amata Jewelry Studio
Ark Ceramics
Art by Loyd
B Raw Bar
Barking Deer Farm
BDC Designs
Chic Naturals
Christina DeHoff Fine Art
Cool Blue Maui
Cupcake Ladies Catering Co.
Debra Lumpkins Studio
exfolicare
Fresh Local Product
Geisha Fabulous by Mona Lisa
Goddess Rising Perfumes
Grace Boutique
Haleakala Creamery
Hali`i by Harriet
Hali`imaile Distilling Company
Haliimaile Pineapple Company
Hana Herbs & Flowers and Leila's
Hano's
Hapa Maui
Hawaii Fudge Company
Hawaii Blown Glass
HAWAI`I Magazine *
Hawaii Natural Products
Hawaii Sea Spirits
Hawaiian Airlines *
Hawaiian Commercial & Sugar Company *
Hill Fine Art Photography
Hui No`eau Visual Arts Center
Hula Cookies
Hulunani by Leonani
Island Style Bedding & Home Decor
Jackie Pias Carlin
JB Creations
Jennifer's Gourds
Jonerz Art & Sparrow Seas
joy's place LIVE!
Kaha Jewelry
Kanemitsu
Kealopiko
Keaohulu
KensSu Jewelry
Kula Crafts & Flowers
Kupu A`e Molokai
Lako Kula Design
Lanakila Design / Kainanea
LeiAloha by Maile
Liquid Sunshine Jewelry
Lori C. Unfus
Lorraine's
Lustrous Maui
Matsumoto Studio
Maui Breadfruit Company
Maui Brewing Company
Maui Coffee Growers Association / Pueo Coffee
Maui Coffee Roasters
Maui Crisps
Maui Dirty Girl Art
Maui Dog Wear
Maui Drift
Maui Excellent
Maui Fruit Jewels
Maui Gourmet Popcorn
Maui Island Love
Maui J & M Photography
Maui Jelly Factory
Maui Ketchup
Maui Koa Wood Creations
Maui Mini Aloha Shirt Souvenirs
Maui Monkey Business
Maui No Ka Oi Magazine *
Maui Nui Wear
Maui Printing Company *
Maui Rainbow Tea
Maui Soap Company
Maui Sweet Cakes
Maui Visitor Channel *
Maui Wild Cultures
Maui Wine / Ulupalakua Vineyards
MauiTiki
Michelle Griffoul Studios
Mike Carroll Gallery
Misha Seelhoff
Moku Pua
Na Kani O Hula
Na Koa Brand
Na Mea Molokai
Nahele Designs
`Ono Nuts
Opihi Maui
Out of the Blue LLC
Pacifica Hawaiian Salt
Palapala Designs
Paradise Now
Pilialoha Keiki
Poi by the Pound
Queen Bee Maui
Rock Salt Plum Creations / Hattherapi
Ron L. Designs
Rosebuds
Roxanne Broadbent Surfboard Art
Sailbags Maui
Sarai Stricklin
Scott Mead Photography
Sew Kolohe
Seyana Jewelry
Shaka Pops Maui
She Shells Maui
Sherri Reeve Gallery
Snoops!
SuiKeala Jewelry
Surfing Goat Dairy
Te Hotu Mana Creations
The Mad Hatter of Maui
The Maui Closet Company
The Maui News *
Three Coconuts Maui
Tracy Lamon Designs
Treehouse Designs
Two Chicks In A Hammock
Uncle Louie Sausage Co.
Upcountry Maui Favorites
Victoria Wundram / Maui Artist
Wow-Wee Maui's Candy Bar
Wrappily

The Festival is co-presented by the Mayor's Office of Economic Development and the Maui Chamber of Commerce. Sponsors include: Hawaiian Airlines, Innovate Hawaii; Hawaiian Commercial & Sugar Company; HAWAI`I Magazine; Hawaii State Department of Transportation, Kahului Airport; The Maui News; Maui No Ka Oi Magazine; The Maui Visitor Channel; Pacific Media Group; Courtyard Marriott, Maui Kahului Airport; Island Honda; Kaiser Permanente; American Savings Bank; HawaiiUSA Federal Credit Union; HHawaii Media; KAOI Radio Group; Maui Electric Company; State of Hawaii Department of Business, Economic Development & Tourism; First Insurance Company of Hawaii; Goodfellow Bros.; Maui Printing Company; Matson; and Roberts Hawaii.
For more information, visit http://www.MadeInMauiCountyFestival.com, email info@MadeInMauiCountyFestival.com or call (808) 270-7710. Connect with the Festival on Facebook, Twitter (#MIMCF2015), Instagram and Pinterest. Sponsorship opportunities are also available.
# # #