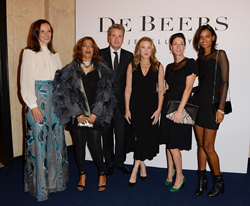 New York, USA (PRWEB) September 23, 2015
The 2015 series of portraits was unveiled at Claridge's, London on September 18th, the opening night of London Fashion Week. A celebration of talented women, the cocktail party and seated dinner was accompanied by a private solo performance from Diana Krall.
Mary McCartney, Zaha Hadid and Liya Kebede were all in attendance. Other notable guests included: Hilary Alexander, Ellie Bamber, Greta Bellamacina, Henry Conway, Amanda Eliasch, Jasmine Guinness, Kim Hersov, India Hicks, Poppy Jamie, Ella Krasner, Tiphaine de Lussy, Rekha Luther, Stacy Martin, Yasmin Mills, Nicholas Oakwell, Melissa Odabash, Alicia Rountree, Charlotte Tilbury, Amanda Wakeley, Martha Ward and Leah Weller.
The 2015 edition of this project is the second year De Beers, the Jeweller of Light, has chosen to celebrate the work of talented and inspiring women through a collection of portraits by photographer Mary McCartney. 'Moments in Light' captures their spirit in light and provides a platform to share their unique stories and natural beauty with women all over the world.
This is an important charitable programme for the brand, supporting Women for Women International on behalf of the women participating. The grants fund classrooms around the world, where women learn new skills and gain the confidence and knowledge that will allow them to rebuild their lives, their communities and inspire other women.
Mary McCartney comments: "I have been truly inspired photographing the amazing women that have defined the Moments In Light project with De Beers. Their passion and talent have made my job a pleasure and supporting Women for Women International has added some real focus for the work"
In this second Moments in Light series, beautiful portraits of architect Zaha Hadid, model and actress Liya Kebede, jazz singer and pianist Diana Krall, and singer and actress Karen Mok, shine a light onto their lives, careers and inspirations. In a series of short films, each woman reveals her journey, her craft and her 'Moment in Light': a particular moment in time which inspired her to succeed and that became possible through the support of others.
François Delage, CEO of De Beers Diamonds Jewellers, comments: 'By celebrating talented women we are both inspiring women to be proud of their own achievements as well as helping women in difficult situations around the world. It is truly a project for women, by women, through which we wanted to express their 'Moment in Light'. The soul of our brand being fundamentally about revealing the brilliance of women and of diamonds. We are delighted to work with Zaha, Diana, Liya and Karen on the next stage of this beautiful project.'
Brita Fernandez Schmidt, Executive Director, Women for Women International UK, comments: 'I am so grateful to De Beers and everyone involved in the inspiring Moments in Light Campaign. With the help of the fantastic women featured in the campaign, Zaha Hadid, Liya Kebede, Diana Krall, Karen Mok and Mary McCartney, 200 women from some of the most marginalised communities in countries affected by conflict will be given the opportunity to have their moment in light and change their lives. It is inspiring to see the transformation of these women; with the right support and education they move from survivors of horrible atrocities to agents of change. That is why our partnership with De Beers means so much to all of us at Women for Women International.'
NOTES TO EDITORS
ABOUT DE BEERS
De Beers, the Jeweller of Light, creates timeless treasures that reveal and celebrate the wondrous brilliance of women and diamonds. As the definitive destination for diamond jewellery, we have a quest for inner beauty, bringing lightness, femininity and delicacy to our sublime diamond jewellery.
Drawing on diamond mastery since 1888, De Beers hand-select each diamond for its unique beauty to capture unmatched Fire, Life, and Brilliance. Each unique De Beers creation is the culmination of wondrous artistry and the true beauty of the finest diamonds.
De Beers is proud to be the only brand to demonstrate the beauty of its diamonds, using the De Beers Iris. This proprietary technology, found in each De Beers store provides clients with an objective way to see the beauty of their diamond through the eyes of an expert.
De Beers Diamond Jewellers was established in 2001 as an independently managed and operated company by LVMH Moët Hennessy Louis Vuitton, the world's leading luxury products group, and De Beers SA, the world's premier diamond mining and marketing company.
De Beers has five stores in China in Beijing, Shanghai, Dalian, Tianjin and Nanjing and is looking forward to opening a new store in Shanghai this autumn at the new luxury shopping destination: IAPM.
ABOUT WOMEN FOR WOMEN INTERNATIONAL
Women for Women International work with women survivors of war in Afghanistan, Bosnia and Herzegovina, the Democratic Republic of the Congo, Iraq, Kosovo, Nigeria, Rwanda, and South Sudan. They help them transition from crisis and poverty to stability and economic well-being via a year-long training programme. Women for Women Internatinal do this by bringing women out of isolation in a safe space with other women, by providing them with skills to earn and save money so they can put food on the table and send their children to school, by providing them with access and knowledge of how to look after their and their families' health, by providing women with the knowledge and skills so that they can make and influence decisions in their homes and community. Women are not victims of conflict, they are survivors and agents of change who can achieve the transformation they want for themselves and their families and communities with the right support.
The De Beers WfWI initiative will support women in post-war countries through a one-year program where the women learn job skills and receive business training so they can earn a living. They come to understand their rights and how to fight for those rights in their homes, their communities and their nations. They learn how to become leaders and create networks that allow them to thrive. Through the Moments in Light initiative in 2014 & 2015 De Beers will provide financial support for 6 year-long programmes for 25 women each across Kosovo, Afghanistan, Nigeria, Iraq and Rwanda.
ABOUT OUR TALENTED WOMEN
ZAHA HADID
Zaha Hadid is an Iraqi-British architect. She received the Pritzker Architecture Prize in 2004 – the first woman to do so – and the Stirling Prize in 2010 and 2011.
Her buildings are distinctively neofuturistic, characterised by the 'powerful, curving forms of her elongated structures' with 'multiple perspective points and fragmented geometry to evoke the chaos of modern life'.
DIANA KRALL
Diana Krall is a Canadian jazz pianist and singer, known for her contralto vocals. She has sold more than six million albums in the US and over 15 million worldwide. Billboard magazine named her the second most important Jazz artist of the 2000 decade, establishing her as one of the best-selling artists of her time.
LIYA KEBEDE
Liya Kebede is an Ethiopian-born model, maternal health advocate, clothing designer, and actress. She is a U.N. Goodwill Ambassador with the World Health Organization, working to raise awareness of the difficulties women and children face in the developing world. In her efforts to make a difference, she founded The Liya Kebede Foundation which aims to improve the health and well-being of mothers and children around the world.
KAREN MOK
Karen Mok is an actress and singer-songwriter who has enjoyed phenomenal success in Asia since making her 1993 debut. Born in Hong Kong of Welsh, Chinese and Persian descent, Karen speaks five languages. An award-winning actress, she has appeared in over 40 films including Shaolin Soccer, one of the highest-grossing films in Hong kong's history. Karen has also made history in the music industry as the first female artist from Hong Kong ever to win Taiwan's prestigious Golden Melody Award, a Grammy equivalent. Karen has released 16 albums and is the first Chinese artist to attain a worldwide release on iTunes.
ABOUT MARY McCARTNEY
Since 1995, Mary McCartney's photographic work has focused on discovering those rare moments of unguarded, emotionally-charged intimacy that offers us a new insight to the subject.
McCartney's work has concentrated on the world of portrait and candid reportage photography and is suffused with a deep personal investment that captures the creative chemistry between Mary and her subjects.
McCartney's responses to her wide variety of subjects are as spontaneous as they are studied, as shown by her first solo exhibition 'Off Pointe – A Photographic Study of The Royal Ballet After Hours' in October 2004.
A series of powerful images that reveals the chaos of life behind the scenes of the elite Corps de Ballet and the contrast between the sometimes gruelling, painful lifestyle of the dancers and their fairy tale performances.
In 'Playing Dress Up' (Goss Michael Foundation, Dallas 2007), McCartney chronicled the rarefied and at times, both monotonous and madcap, world of high fashion, both on the catwalk and backstage with an
unreserved collection of images.
McCartney's talent for encapsulating the inspirations, histories and personalities of her subjects, such as Tracey Emin dressed as Frida Kahlo, is most evident in her recent exhibition 'Developing' (The Lowry, Manchester, 2013). Showcasing her distinctive style in portraying visually vulnerable, off-guard portraits that seem unlikely without McCartney's affinity with her subject.
McCartney also has a number of photographs in several group commissions that were exhibited internationally including the National Portrait Gallery, London (Gay Icons, 2009) and The Waterfront, New York City (Strength and Beauty Embodied by Avant-Garde Women, 2007).
Born in 1969, in London, Mary McCartney's assignments have led to her work appearing in editorial titles such as Harper's Bazaar and Interview Magazine as well as high impact advertising campaigns for clients such as Vertu, Aga, Asus, Galaxy, Adidas and Mandarin Oriental.
For further information and exclusive images, please contact:
Jennie Farmer
Brand Director
jfarmer(at)debeers(dot)com