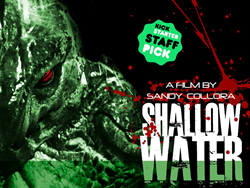 "It's Mother Nature versus Human Nature."
Los Angeles, CA (PRWEB) September 23, 2015
As an effects artist, Sandy Collora helped create some of the more renowned and revered creatures in modern cinema. As a filmmaker, he produced and directed "Batman Dead End" – among the most downloaded short films in history, and "Hunter Prey". Now, with the support of a large part of Hollywood's practical effects community, Collora has introduced "Shallow Water" – which he calls "a gritty film that fans of high-quality indie horror will love and respect. And - it unleashes a new cinema creature unlike anything seen before, that is NOT another sequel, remake, or reimagining."
Says Collora: "With the help of the crowd (through crowd funding on Kickstarter), I want to make a great genre film, with a strong story, believable characters, great performances, eerie settings, suspense, and a worsening predicament – classic quality horror that people will love and enjoy."
"Shallow Water" combines Collora's three greatest loves – horror, the ocean, and the environment. "The underlying theme of Shallow Water is simple," says Collora, "all life on Earth is part of an ecosystem containing millions of species. When one species repeatedly disturbs that ecosystem, the oceans get upset; and when the oceans get upset enough, the whole planet gets pissed off."
After a decade of fine-tuning, Collora introduces the Tiburonera – "he who hunts sharks". Collora believes the reason Hollywood has dropped the ball in introducing fresh new cinema creatures stems mostly from economic pressures faced by studios to prioritize safe returns to meet bottom lines, and sequels and remakes do that. But he also believes this can become excessive, and compromise the art, and this is what has happened within genre films like horror.
Collora was born in NY and always loved film. He moved to CA at 17 and found initial success as an artist at Stan Winston Studios, mastering the art of sculpture and character creation, first on films like "Leviathan" and "Alien Nation" then later on "Men In Black", "Total Recall" and "The Abyss". He became a go-to designer of action figures, had a successful stint as a commercial director, wrote and directed the cult classic Batman Dead End, the acclaimed feature film "Hunter Prey", and published two volumes of The Art of Creature and Character Design, which he funded with the help of Kickstarter. He returns to Kickstarter for Shallow Water, and has created a trailer for the film on the Kickstarter page which he vows will "blow the socks" off anyone who watches..
Shallow Water tells the story of a seemingly innocent adventure. Six fishermen embark on a fishing trip to a remote and mythical fishing hole nestled deep in the Sea of Cortez. They scour the Baja peninsula to find this magical place, but when they do, they encounter unexpected sea life, which puts them at odds, and it becomes every man for himself. Adds Collora: "It's Mother Nature versus Human Nature."
"I love Sandy's work. "Shallow Water" is a great story, and the creature is fantastic. Of course I also love the reliance on practical effects", says two-time Oscar nominee and Emmy winner Howard Berger (KNB EFX Group, for The Walking Dead).
"It's exactly what's been missing in niche cinema, and I look forward to working with Sandy again," adds Clark Bartram, America's most trusted fitness professional, who plays one of the fishermen, and also played Batman in Collora's famous short.
"I spent years on this script, and have been very careful to think it through" adds Collora. "As a filmmaker whose primary hobbies are fishing and freediving, I feel blessed to be able to create a film that combines the things I know and love most."
Collora launched his Kickstarter campaign in early September. He is offering Rewards from $6 on up, has created limited edition collectible resin busts, a MEGO-style action figure, and maquettes at higher Rewards levels – and - even an original film-used full-body creature suit. His kickstarter project is live at http://kck.st/1JyI7Po - and it has raised well over $100K to date.
Collora resides in Orange County, CA. He is available for interviews.