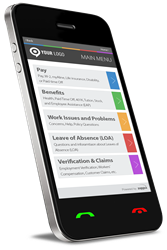 We built our mobile platform," said Zappix Chairman, Avner Schneur, "to give companies multiple communications paths in their local languages and facilitate the use of voice and non-voice live and self service channels.
Boston, MA (PRWEB) September 24, 2015
Zappix, the innovative Smartphone Visual IVR provider, announced today that its robust software suite platform now provides out-of-the-box, multi-language support and localization, allowing customers to provide Visual IVR service in any language.
By expanding its offering of global services, Zappix continues to empower call centers and Service Providers to better engage with customers all over the world. Zappix's internationalization allows companies to easily build a visual IVR that will communicate with customers in their native language. Through this multilingual support, customer service and contact centers can seamlessly use a Visual IVR that has been customized for different languages and regions. This new release from Zappix is able to assess customer service areas and adapt an appropriate language solution for a given region that includes correct menu formatting and content generation. Additionally, Zappix allows the deployment of multiple languages based on user preference.
While the Zappix application already has the ability to work with multiple mobile devices and browsers, the new release adds even more capability in terms of proper global sets that are functional, readable, and viewable via multiple language platforms and cross-browsers.
Through its ability to engage with customers in their preferred language, Zappix solves the significant communications problem raised in the findings of a recent study, where 55% of consumers said they would only engage with customer service when the information is in their native language.
"We built our mobile platform," said Zappix Chairman, Avner Schneur, "to give companies multiple communications paths in their local languages and facilitate the use of voice and non-voice live and self service channels. The fully internalized platform provides companies of any size the ability to serve their content in any market through a versatile, customer-friendly Visual IVR smartphone app that also delivers comprehensive multi-channel analytics."
Easy-to-use, the Zappix smartphone Visual-IVR platform, with its Omni Channel user experience, has always placed capability and convenience at the customer's fingertips. As an innovative customer service platform for searching channels and retrieving answers immediately, it has demonstrated a strong ability to improve customer satisfaction and Net Promoter Scores (NPS), while reducing direct and indirect call center costs. Now, with the introduction of multi-language internationalization, the app brings more feature functionality to customer service than ever.
At its core, the Zappix Visual IVR app integrates voice and non-voice visual content with customer service channels that include phone (voice), web, live chat, mobile online forms, and multi-media (audio or video) self-help resources. Companies using this platform can realize significant reductions in app development costs while giving service-seeking customers exactly what they want and need-- better agent interactions driven by automation, self-service, around-the-clock accessibility and enhanced mobile/web convenience.
More about Zappix
The Zappix Cloud-based Visual-IVR platform is a SaaS (Software as a Service) solution for web or cross-OS mobile app, omni-channel, customer service communications. It allows the rapid deployment of a highly intuitive, extremely interactive smartphone Visual IVR app that improves the customer care experience, reduces contact center costs and increases a company's Net Promoter Score™ (NPS).
The Zappix Smartphone Visual IVR and mobile self-service solution has grown rapidly and currently provides hundreds of contact centers with a streamlined way to empower and better serve customers. The continually expanding list of Zappix-supported organizations includes insurance companies, utility companies, banks, internet and mobile service providers, retailers, airlines and government agencies.
For more information about Zappix, visit http://www.zappix.com or contact Gal Steinberg, Vice President of Marketing, at 781.214.8124 or gal(dot)steinberg(at)zappix(dot)com.