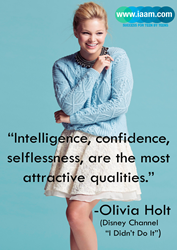 "We are so thrilled to be part of positive impact of the campaign which inspires inner beauty and confidence in young people." Spokespersons, Lena and Lana Hoover from New Mexico
New York, New York (PRWEB) September 23, 2015
In today's society, beauty is more sought after than ever. When one thinks of sexy, smart is not the first word that comes to mind. Teen Network iaam.com is pioneering the change by introducing September as Smart is Sexy month. Through celebrity support, along with social media, Teen Network iaam.com's Smart is Sexy campaign is well underway.
Teens and celebrities alike are showing support through social media and changing the definition of what is sexy. Qualities such as confidence, personality, intelligence, and humor are being used by teens to broaden the definition of Smart is Sexy.
17-year-old Arianna Stone, from Maryland said "This mission is truly innovative and inspiring for the young generation. I am honestly so surprised the campaign is a success already."
15-year old twins Lena and Lana Hoover, from New Mexico, spokespersons for the campaign said "We are so thrilled to be part of positive impact of the campaign which inspires inner beauty and confidence in young people."
Today's youth are struggling with body image due to hyper sexualized images in the media. This campaign is essential in helping teens realize Smart is Sexy. iaam.com wants teens to realize that looks alone do not define who they are. The purpose of the campaign is to embrace the qualities that make Smart is Sexy.
Malini Hoover, founder and CEO of iaam who invented September as Smart is Sexy month and guided the college students on the Smart is Sexy campaign said "Smart is Sexy is an influential campaign for young people to be empowered and to stand up for who they are versus how they look."
Senior Public Relations student at Appalachian State University, Joanne Sabenicio said "Smart is Sexy is a much needed campaign among today's youth. It's time we focus on beauty with brains not just looks alone."
| ABOUT iaam.com |
The Teen Entertainment & Life Skills Multimedia Network is the first national positive media company emphasizing life skills and entertainment for young adults, providing information on entertainment such as music and fashion, college, lifestyle and success written by teenagers across U.S. The company truly embodies 'The Entertainment with Purpose message! It successfully provides a platform for students to develop leadership, career and communication skills. Our national student internship and ambassador programs have helped numerous students to land scholarships, admission to top colleges, internships and jobs in media, marketing and communication.
For additional media inquiries or to talk with the students, please contact Malini Hoover at (505) 250 1684 or email her at malini@iaam.com.