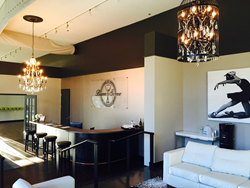 "Our dance-inspired fitness classes are unlike any others being offered in the Atlanta area, and our atmosphere is fun and energetic. It's the kind of place you'll actually want to hang out." -Katherine Akra
ATLANTA, GEORGIA (PRWEB) September 23, 2015
The team at The Barre Scene, led by Katherine Akra, is proud to announce that the dance and fitness studio is now open for business. An array of class options are available at the studio, located in the Buckhead Atlanta shopping district.
For a limited time only, new members can sign up for unlimited monthly classes for just $99 monthly. This deal is available to the first 100 members to sign up.
"I'm so excited to show Atlanta what The Barre Scene has to offer," said Akra, owner and primary instructor at the studio. "Our dance-inspired fitness classes are unlike any others being offered in the Atlanta area, and our atmosphere is fun and energetic. It's the kind of place you'll actually want to hang out."
The Barre Scene is now also part of the Class Pass network of fitness studios and gyms, so Class Pass members can sign up for sessions likes HIIT the Barre (combining barre techniques with High Intensity Interval Training), Barre Brawl (an upper body and cardio workout involving weighted boxing-style gloves and body weight exercises), or the newly added Vixen Workout (a full-body cardio dance workout that can't be found anywhere else in Atlanta).
The studio will be hosting a charity event on October 18 from 11:30 a.m. to 2:30 p.m., featuring a number of vendors and special guests. Anyone interested in attending the event can find out more at TheBarreScene.com, where further details will be announced shortly.
Those interested in learning more about the studio, or in signing up for a class or a membership, can do so at TheBarreScene.com. The Barre Scene is located at 325 E Paces Ferry NE in Atlanta.
ABOUT THE BARRE SCENE
The Barre Scene, founded by former professional dancer Katherine Akra, is a dance and fitness studio that mixes fitness and fun for a unique approach to staying healthy. Offering an array of classes that blend barre exercises with dance and cardio, it provides people of all types with a place to work out, socialize, and find their balance. It's located in the Buckhead Atlanta shopping district, and opened in September 2015. Visit TheBarreScene.com to learn more.