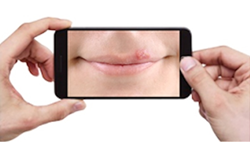 (PRWEB) September 29, 2015
With fewer than 10,000 dermatologists in the U.S. serving more than 320 million Americans, getting an appointment to evaluate your skin problem can be challenging. DermCheck, a new app introduced and created by the nation's leading board-certified dermatologists, offers patients their diagnoses, treatment plans and all necessary prescriptions without having to set foot in a doctor's office.
Users are asked to upload photographs of problem areas to the DermCheck app where they are evaluated by a board-certified dermatologist. Within 24 hours, the patient is counseled, a treatment plan is formulated and prescriptions are written. The app is free and the cost for each evaluation and one month of follow-up and doctor consultation is $39.95. Among the dermatological conditions that may be treated: acne, cold sores, rosacea, moles, male hair loss, dandruff, dry skin, eczema and psoriasis.
"On behalf of the entire DermCheck team, we are delighted to mark the debut of this valuable and potentially life-saving app that we believe will improve the health of its users," said board-certified dermatologist and DermCheck founder Ben Behnam, M.D. "Technology has come so far so fast that our Smartphones are not just tools for communication but are now playing an integral role in preserving our overall health."
DermCheck resulted from the difficulty and inconvenience that some have in scheduling appointments to see their dermatologist and how delays in having a skin growth or irregularity looked at can pose a serious risk to one's health. That was the case for one Southern California 18-year-old, who by the time he finally met with his dermatologist, the diagnosis came too late. The growth, indeed, was a melanoma and he succumbed to the cancer within a year.
"This case and others like it set the stage for the introduction of DermCheck," Behnam said. "The ease and convenience of this app combined with the exceptional skills of our team of dermatologists will, no doubt, make a significant difference in the lives of users."
Behnam said that they are currently expanding their board of dermatologists; those interested may call (310) 315-4989.
For more information, visit DermCheckApp.com.
###