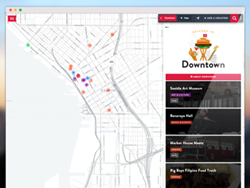 Seattle, WA (PRWEB) September 23, 2015
Y-Designs, Inc, a local web design firm, launches SeattleiteGuide.com -- a local's guide to the City of Seattle. The website is a resource for travelers and locals alike searching for great entertainment options available only in Seattle. Site's listings focus on local small to medium sized businesses. The website excludes Starbucks and other large chain establishments.
Seattleite Guide lists businesses and activities categorized by Seattle neighborhoods. The site is built on top of Google Maps making navigation simple and familiar. In addition, the site is mobile friendly and works on all major smartphones such as an Apple iPhone or a Google Android device. The site accepts new locations via a submission process.
The inspiration for this site stemmed from frustration with advertisements filled with only tourist attractions. Y-Designs CEO Ryuhei Yokokawa stated: "We wanted to create a platform that highlights great local businesses which may not get the same exposure as the big budget corporations do. We hope you'll enjoy using it."
About Y-Designs, Inc
We are a multifaceted agency whose main focus is to create websites, brands, and products that help businesses and organizations excel.
Our work ranges in web design/development, application design/development, branding, print design, web maintenance and SEO.
Find out more at Y-Designs, Inc