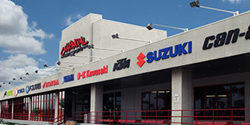 San Bernardino, CA (PRWEB) September 24, 2015
Chaparral Motorsports is aiming to help students reduce the expensive costs associated with college by announcing its inaugural $1,000 College Scholarship competition. With student debt hitting record levels, the Chaparral Motorsports College Scholarship Competition provides Chaparral a chance to give back and help ease the costs of attaining a higher education.
The College/Trade School Scholarship competition is open to current and prospective college students as well those attending or entering trade schools. Those interested in the scholarship competition can enter by simply writing a 400-500 word essay based on a prompt composed by Chaparral Motorsports. The essay prompt for the inaugural competition is:
Those who don't ride motorcycles often think of it as a dangerous/hazardous activity. What positive examples from your experiences riding motorcycles would you use to convince someone otherwise?
In order to be eligible for the Scholarship Competition entrants must be a resident of the United States, be a graduating senior or a freshmen or sophomore in college, and must be graduating high school or in college between the ages of 16 and 21. For those interested in competing for the scholarship entrants must have their essay turned in by May 31, 2016. Chaparral Motorsports will choose and notify the winner by June 30, 2016, and will mail out a $1,000 check. Interested participants can learn more and submit their entry by visiting our motorcycle parts website
Chaparral Motorsports is recognized as one of the largest motorcycle dealerships in the country, offering a great selection of motorcycle parts, accessories, motorcycle gear, and motorcycle tires. Chaparral Motorsports now encompasses a 160,000 square foot footprint in San Bernardino, Calif. Started as a family motorcycle parts business, Chaparral Motorsports has developed into a multi-line motorcycle and ATV superstore, offering Honda, Yamaha, Kawasaki, KTM, Suzuki, Can-Am, Polaris and Kymco ATV's, motorcycles, side by sides and utility vehicles. For more information on Chaparral Motorsports, visit http://www.chaparral-racing.com