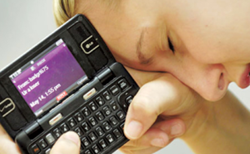 As an online public safety application, here at AlertID, we believe it's important to raise awareness and help address this important issue facing our kids.
Las Vegas, NV (PRWEB) September 23, 2015
Eighty percent of kids regularly use cell phones and 52% report having been cyber bullied, according to Counseling Service report concerning Cyber Bullying Statistics (2014). Resulting from the increased use of smartphones and social media by our kids, cyberbullying is becoming a very common and serious issue that can result in anxiety, depression, and thoughts of suicide.
Using social media, kids are much more likely to post things that they would not say face-to-face.
Messages/images can be hurtful, anonymously posted and reach a large audience in a short period of time.
AlertID, the neighborhood safety network mobile app and online program, provides up-to-date public safety alerts to members in all 50 states and offers a virtual neighborhood watch, all for free. "As an online public safety application, here at AlertID, we believe it's important to raise awareness and help address this important issue facing our kids," said AlertID Founder, Keli Wilson.
Ways Kids are Being Cyberbullied:

Sending someone mean or threatening emails, instant messages, or text messages.
Excluding someone from an instant messenger buddy list, blocking their email for no reason, or "unfollowing" them.
Tricking someone into revealing personal or embarrassing information and sending it to others.
Breaking into someone's email or instant message account to send cruel or untrue messages while posing as that person.
Creating websites to make fun of another person such as a classmate or teacher.
Using websites to rate peers as prettiest, ugliest, etc.
Talk to Kids about How to Prevent Cyberbullying:

Teach kids to never open emails from someone you don't know or from someone you know is a bully.
Tell them to never put anything online that they wouldn't want classmates to see, even in email.
Encourage kids to always be as polite online as they are in person. Share with them to not send messages when they're angry. Before clicking "send," teach them to ask themselves how they would feel if they received the message.
Teach them to not use all caps online as it is viewed as the same as yelling at someone.
How to deal with Cyberbullying:

Encourage your kids to tell you immediately if they, or someone they know, is being cyberbullied.
If your child finds a profile that was created or altered without his or her permission, contact the site to have it taken down.
If the bullying involves instant messaging or another online service that requires a "friend" or "buddy" list, delete the bully from the lists or block their user name or email address.
If someone sends a mean or threatening message, don't respond. Save it or print it and show it to a parent, teacher, law enforcement officer, or other adult you trust.
For more information and other tips to prevent cyberbullying, visit: https://www.alertid.com/search/cyberbullying.asp. To learn more about how AlertID helps to protect families and bring neighbors together, visit [http://www.AlertID.com.
About AlertID
AlertID, the nationwide neighborhood safety network, is available online as well as on your smartphone to help protect families by providing the information you need to keep your kids safe. Members are able to view an interactive map displaying crimes and sex offenders currently in their selected neighborhoods and can receive alerts and information for multiple locations such as their homes, schools or offices that include: law enforcement emergency alerts, crime and sex offender alerts, prevention tips and much more. Additionally, the app acts as a virtual neighborhood watch where members can share photos and information regarding suspicious activity with neighbors.
The AlertID mobile app is available for download on iTunes or the Android market. To sign up for an AlertID account or for more information, please go to [http://www.AlertID.com.