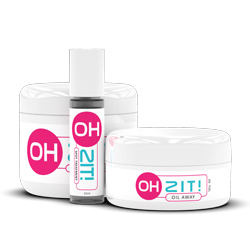 Point. Shoot. Clear.
(PRWEB) October 01, 2015
OH ZIT! America's newest and most advanced teen breakout treatment will launch on October 2. OH ZIT! will introduce three brand new products developed specifically for teenage skin. These treatments include Spot Treatment, Face Treatment and Oil Away. All 3 products can be purchased on the new website http://www.ohzit.com.
The company cites visible results and ease-of-use as the main reasons the product has quickly become a "go-to" for teens, claiming its one-step process clearly separates OHZIT! from the competition.
"I've had the pleasure of organizing several focus groups to test the best teenage breakout treatment on the market and am always thrilled with the feedback," says Nathan Shinder, SVP Business Development. The first response is "it's so easy to use", followed by "can I take these home?" and "it really works!" The OHZIT! technology helps eliminate breakouts, and achieves our important mission of letting you be you. "
OH ZIT! also announced beatboxer and musician Nicole Paris as the new face of the brand. Nicole, a rising star, became a viral sensation when over 35 million fans viewed a YouTube battle against her mentor. (The Battle) With a growing worldwide audience, Nicole now travels the world to perform and has been featured on Good Morning America, the Late, Late Show with James Corden, and Steve Harvey among others. Nicole will be an ambassadress for the brand, with a focus on helping teenagers control pimples and breakouts to maintain their self- confidence.
The OH ZIT! website will include clips featuring Nicole's beatboxing talents, as well as a blog offering updates, information and advice about the causes of breakouts and how to prevent them. Directions on how to best use OHZIT! products will also be provided.
About
OH ZIT! is a division of the Sonia Remy Cosmetics Company, which was established in 1978. Sonia Remy, a retired professor of Esthetics from the Institute of Skincare in San Francisco, has provided advanced training to thousands of licensed estheticians during her tenure. OH ZIT! is Sonia's masterpiece and latest breakthrough in the skincare industry.
Connect with OH ZIT! on Facebook, Twitter @OHZITOFFICIAL
Contact:
Nathan Shinder
818.448.1384
nathan(at)ohzit(dot)com