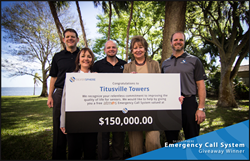 With components of our eCall system dating back to 1977, it goes without saying that this new system from Silversphere has really been a blessing!
Daytona Beach, FL (PRWEB) September 24, 2015
Silversphere, a 70-year veteran in the senior living technology space, is now accepting nominations for their 2015 Emergency Call System Giveaway. Each year, Silversphere chooses one outstanding low-income, not-for-profit, senior living community in need to provide a new state-of-the-art emergency call system. The chosen community will receive, free-of-charge, an emergency call system, including consultation, components, installation, and real-time management reporting.
Nominations are now being accepted from community employees, neighboring communities, community residents, family members, community boards, and others who know of a not-for-profit senior living community in need.
Qualifying senior living communities must maintain United States 501(c)(3) nonprofit organization status or a tribe/tribally designated housing entity with a stated mission of providing housing to low-income seniors. The emergency call system will be awarded to a community that demonstrates the importance of bringing housing and services together in a safe and caring environment to meet the needs of lower-income elderly.
To nominate a community, please visit the Silversphere website at http://www.silversphere.com/giveaway. The deadline to submit nominations is 5PM ET December 31, 2015.
Emergency call systems are critical to the safe and secure daily operation of any senior living community. Systems such as these help seniors feel safe and protect their independence while providing their families peace of mind.
Unfortunately, not every senior living community has the funds to afford the latest in emergency call system or nurse call system technology. In fact, several communities that lack appropriate funding are in need of a technology upgrade to continue to provide premium care for their seniors. For this reason, Silversphere chooses each year to help one outstanding low-income, not-for-profit senior housing community in need.
Past recipients of the emergency call system include 2013 recipient Cedar Lane Senior Living in Leonardtown, MD and 2014 recipient Titusville Towers in Titusville, FL. Upon announcement of selection, Beverly Stickles, President/CEO of Cedar Lane Senior Living said,"With components of our ecall system dating back to 1977, it goes without saying that this new system from Silversphere has really been a blessing! This ecall system giveaway has not only helped by modernizing our equipment and improving our operational efficiency and capacity, but has also positioned us to provide our residents with a greater sense of privacy and independence".
In 2014, Beth Ann Walker, Manager of Titusville Towers added, "This new Silversphere emergency call system is going to modernize our facility in many ways. For our existing residents, it is going to provide more independence and safety. For the families of our residents, they will be more comfortable knowing their loved ones have access to staff with the touch of a button".
About Silversphere:
Silversphere is a technology company that is dedicated to improving senior living. Silversphere creates emergency call systems, nurse call systems, resident monitoring solutions, and predictive health technologies that enhance the way people and organizations care for seniors, wherever they may call home.
For more information about Silversphere, please visit http://silversphere.com.