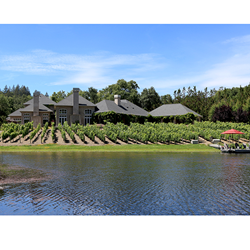 the lake reflects and amplifies the moment-to-moment changes in the rolling hills, trees, vineyards and long grasses that make up the property's landscape
San Francisco, California (PRWEB) September 23, 2015
Peggy Economos and Ken Spadoni of Pacific Union – Christies International Real Estate have listed an estate in the town of Healdsburg, California for a price of $6.2 million. Private properties that include a lake are extraordinary in Napa and Sonoma counties and this is the first time in 25 years that this estate has been available for purchase.
A free 28-page "coffee-book style" presentation has been created and is available on the web at: "A Sense of Place".
An aerial video tour of the property is available on the web at: "A Sense of Place - an Aerial Tour"
The property at 3315 Westside Road in Healdsburg is located on the famed Russian River wine road in the heart of Sonoma's Wine Country. It is located just 3 miles from Healdsburg's popular town plaza and the city's world-class restaurants, high-end boutiques and lodging. Healdsburg is one of the most desirable locations in wine country and is referred to as "the gem of Sonoma County."
The focal point and what truly sets this property apart is the lake. From everywhere on the over 16 acre property there are views of the lake and the surrounding vineyards, a gift of nature. The lake is fed naturally so it varies in size from year to year and with the seasons. At this time, after both a dry year and a hot summer the lake is over 3 acres in area.
Peggy Economos stated on her website HomesSF.com, "Views of the lake are inspiring, they reflect and amplify the moment-to-moment changes in the rolling hills, trees, vineyards and long grasses that make up the property's landscape."
The house is about 4,700 square feet with 3 bedrooms, 3 full bathrooms and a powder room that serves the public rooms. The entrance foyer, living room, dining room and chef's kitchen flow together offering a variety of entertainment combinations.
The home was built in 1996 and has a European design with French and Spanish influences. It is situated so that there are views of the lake and planted vineyards from nearly every room. The vineyard is comprised of over 2000 vines of premium Pinot Noir & Sangiovese varietals.
Peggy Economos of Pacific Union's San Francisco Office and Ken Spadoni of Pacific Union's Healdsburg Office are co-listing agents of the $6.2 million Healdsburg property.
HomesSF.com is the online presence of Peggy Economos. The site provides information on the local San Francisco luxury residential market as well as news, insight and information on local, national and global, high-end properties and markets.
For buyer and seller representation, real estate information in San Francisco or for a qualified luxury property referral in your local area contact: Peggy Economos, http://HomesSF.com, call: (415) 271-6390, or email: peconomos(at)pacunion(dot)com.