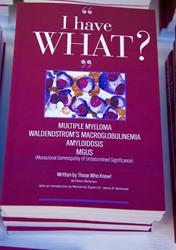 "What I want for all of you, our patients, is a future filled with a life in which cancer is nowhere to be found and the treatment that got you there has no negative impact on your quality of life," said Dr. Berenson.
Beverly Hills, California (PRWEB) September 24, 2015
Nearly 200 patients, supporters, caregivers and members of the press turned out at the beautiful Four Seasons Los Angeles at Beverly Hills Hotel this past Sunday, September 13th for the book launch fundraiser of Debra Berenson's book, "I HAVE WHAT??? Written By Those Who Know!!!" The book features personal stories of nearly 30 patients and also contains pertinent information from doctors and other health care professionals. The fundraiser successfully raised over $45,000 to support the research at the Institute for Myeloma & Bone Cancer Research (IMBCR), and all future book sales will also support this vital research.
Guests arrived through the lush Wetherly gardens, and enjoyed wine or champagne and live classical music by a string quartet with Vanessa Frebairn-Smith, Ina Veli, Jenny Takamatsu and Alwyn Wright while they perused and bid on items in the spectacular silent auction. Highlights included: A one week stay at a private Costa Rican estate, a Diamond Sapphire ring, a signed Salvatore Dali lithograph, a one week stay at a Lake Tahoe house get-a-way, Original Four-Minute Musical Composition by six-time Emmy award winner, Mark Watters and a dinner with Dr. and Mrs. Berenson.
Soon guests entered the ballroom, where they appreciated the California-chic ambiance, exquisite table settings and artistic floral arrangements by Four Seasons owner, Beverly Cohen. Debra Berenson, the Event Chairperson welcomed everyone, and began the program. Debra announced that she was thrilled to have her book, which took seven years to complete as a labor of love now available to help patients, their families and caregivers.
Debra said, "I hope this book will raise awareness of myeloma and these related diseases, spread the news of the groundbreaking research being conducted at IMBCR and help to raise more funds for cancer research."
The next speaker was Geoffrey Gee, the Executive Director of IMBCR. He mentioned that he had been associated with IMBCR for more than 12 years and that on a daily basis he hears from the researchers of the tremendous advances that are being made by them in the lab that, he believes, will soon result in finding a cure.
Geoffrey Gee then introduced James Berenson M.D., the Medical & Scientific Director of IMBCR. Dr. Berenson, delighted to be at the event celebrating his wife's book about their patients and families, first acknowledged two IMBCR Board members in attendance, Ron Rogers and Stacey Baumeister.
"Through your support, the Institute has been a major part of advances in these diseases in the past decade," said Dr. Berenson. One such breakthrough is a special blood biomarker test, which analyzes disease status and progression, and could provide information to more accurately track these diseases and reduce the need for patients to have biopsies and CT scans. "For the first time, new approaches are eliminating myeloma entirely in our research laboratory and we are very anxious to get these new therapies into the clinic,"
"What I want for all of you, our patients, is a future filled with a life in which cancer is nowhere to be found and the treatment that got you there has no negative impact on your quality of life," continued Dr. Berenson.
Dr. Berenson then introduced Peter Baghdassarian, whose family graciously underwrote the event. Peter spoke about how well his father Hacop was doing under Dr. Berenson's care, and the necessity of having a specialist in dealing with multiple myeloma like Dr. Berenson.
As the guests enjoyed their delicious three-course lunch, they heard from eight other patients or patient's family members of Dr. Berenson's who contributed stories to Debra's book: Rex Wilder, reading from Bernard Briskin's chapter, Linda Robertson, Stacey Baumeister on behalf of her father, Reverend Father E.V. Mylonas, Marlene Zimmerman, Maureen Vaughan, Dr. Robert Dolgoff, Susan Kolb, and Geoff Wainwright.
Common to all the stories was the huge affection and appreciation the patients had for Dr. Berenson.
"It was a very special and heartwarming day and the support and love permeated the room. Each speaker was an inspiration as is each story in the book. My heart is full and I will carry the memories from this special day with me forever," said IMBCR Board member Stacey Baumeister.
"In a sea of impersonal medicine, the Berensons have created an oasis jewel," added speaker and contributing writer, Susan Kolb.
# # #
Notes to Editors:
I Have What??? Written by Those Who Know!!! ISBN number: 13:978-0-9962359-0-7.
Books are $25 and may be ordered online at: http://www.imbcr.org
or by calling 310-623-1214.
IMBCR wishes to thank the Baghdassarian family for underwriting the event, and gratefully acknowledges the auction donors: Beverly and Robert Cohen, Annie from Umberto Salon (BH), Stan Grod (Massage Masters), XIV Karats, Zina's Jewelry (BH), Michael's Restaurant (Santa Monica), The Grill (BH), BOA Steakhouse (West Hollywood), Upstairs 2 Wine Bar (LA), Mark Watters (original composition), Susan Kolb (jewelry), Joshua Chalom (Cube Works Studio), Theresa Frank (Amara of Ojai Healing Center), Exotics Racing, Roberta Gray (Gray Studios Professional Acting School), Robert Davies (Las Catalinas, Costa Rica),Youssef Malekin (WeddingRingsUnlimited.com), Cinthia Lomeli (esthetician, Saulino Smith Salon), Angela Sassounian (The Huntley and The Penthouse, Santa Monica), Larry Stein (Aston at the Whaler on Kaanapali Beach), Joan Borsten (Malibu Beach Recovery Center), Maggie Mae Montgomery (Etsy.com/shop/MCubedJewelry), Geoffrey and Eda Wainwright, Tzu Kwok, Ching Lin, Jackie Rabinowitz, Tony Garzio, Jay Carty, Catherine Garzio, Martin Mattes, Cathy and Jeff Field, Patricia Alfano, Michael Kassner, Enid and Gene Berman, George Houghton (Monzanita Desk Set), Diane Jankowski (Yamaha Corporation) and Sherri Nickeas (Pele autographed soccer ball and Anže Kopitar autographed hockey stick)
About the Author:
Debra Berenson:
Debra is a professional actress and a member of both SAG-AFTRA and Actors' Equity. She is also a classical pianist and performed the First Piano Benefit for IMBCR on the great Vladimir Horowitz' piano. She serves on the IMBCR Advisory Committee as Event Chairperson and has helped produce many benefits for IMBCR. She has been married to Dr. Jim Berenson for over 37 years. They have two daughters, Shira and Ariana, and a dog, Snowball.
About IMBCR and Dr. James R. Berenson:
He is the founder of the Institute for Myeloma & Bone Cancer Research (IMBCR) and has specialized in research related to myeloma, Waldenstrom's macroglobulinemia, amyloidosis, MGUS, and metastatic bone disease both in the basic and clinical areas for more than 30 years. He has been involved in many of the major breakthroughs that have brought new treatments for patients with these diseases resulting in both an improvement in the length and quality of their lives.
Contact: John Forrester (323) 702-3684 john(at)johnforrester(dot)com