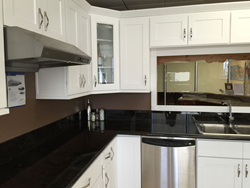 Anaheim, CA (PRWEB) September 23, 2015
CabinetDIY is pleased to announce they have launched a new mobile-friendly website to make viewing and shopping for RTA Cabinets easier. The new sleek design allows users of the site to view all the product range on their mobile devices. The new mobile friendly website provides a new modern design and is faster and easier to use.
The new mobile website allows a person to take their mobile device into the room they are remodeling and view the products available. By viewing the products on the mobile device and imagining how they would look in the kitchen or bathroom, it gives the user a greater insight.
A spokesman for CabinetDIY said: "We always listen to what our customer want. Our customers are important to us, and they said they would love to have a faster version of our site available on their mobile devices. We decided to take immediate action and launch a new mobile friendly website."
The mobile version of the site will allow customers to view all the RTA cabinets available. It will also allow customers to take their mobile devices into the kitchen or bathroom and use the color comparison to see if their choice of color would match the room they are remodeling. As well as viewing all products available, users will be able to order through their mobile devices
The mobile website has already received positive reviews from customers who have said it has made choosing the right RTA cabinets much easier. One customer commented how much faster the new mobile website is and how it made it much easier to choose the right color for their kitchen.
For more information on the wide range of affordable kitchen cabinets available, or to visit the new mobile friendly website, please visit http://www.cabinetdiy.com/color/kitchen-price-comparison
About CabinetDIY
CabinetDIY was established in 2004 to provide professional interior design services and products throughout North America and beyond. The company's team takes each customer's need, complaint or suggestion seriously, constantly improving their services and products to meet the demands for quality, uniqueness and diversity of the today's generation.