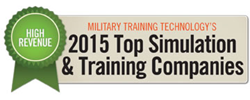 SAN DIEGO, Calif. (PRWEB) September 23, 2015
September 23, 2015 – Cubic Global Defense (CGD), a business unit of Cubic Corporation (NYSE: CUB), today announced its recognition with a Green Ribbon for 'High Revenue' by Military Training Technology (MT2) magazine. Published by the KMI Media Group, MT2 is one of the longest established publications in the simulation and training industry focusing on issues related to training and preparing armed forces. The Green Ribbon is offered to industry leaders in training related sales, regardless of total revenue. Cubic is also named in MT2's annual "2015 Top Simulation & Training Companies" list, which highlights companies making a significant impact in the military training industry.
Out of hundreds of submissions this year, 113 companies were selected to be on the "Top Simulation & Training Companies" list. Of the listed companies, 22 companies received ribbons in four different categories: High Revenue, Innovations, Up-and-Coming and Best Program; in which Cubic was among five selected to receive the Green Ribbon for 'High Revenue.'
"Cubic is proud to accept Military Training Technology's 'High Revenue' Green Ribbon award and pleased to be recognized as a top simulation and training company within the defense industry," said Bill Toti, president of Cubic Global Defense. "Our employees are passionate and dedicated to providing the best services and solutions available in simulation and training for military forces worldwide."
A complete list of the "2015 Top Simulation & Training Companies" and Cubic's listing can be found in the September issue of the Military Training Technology magazine.
# # #
About Cubic Corporation
Cubic Corporation designs, integrates and operates systems, products and services focused in the transportation, defense training and secure communications markets. As the parent company of two major business units, Cubic's mission is to increase situational awareness and understanding for customers worldwide. Cubic Transportation Systems is a leading integrator of payment and information technology and services to create intelligent travel solutions for transportation authorities and operators. Cubic Global Defense is a leading provider of realistic combat training systems, secure communications and networking and highly specialized support services for military and security forces of the U.S. and allied nations. For more information about Cubic, please visit the company's website at http://www.cubic.com or on Twitter @CubicCorp.
Media Contact
Laura Chon
Corporate Communications
Cubic Corporation
858-505-2181
laura.chon(at)cubic(dot)com