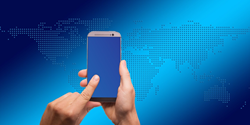 New York, New York (PRWEB) September 24, 2015
Zecurion, a leading developer of data loss prevention solutions, announced it has achieved silver partner status in the Samsung Enterprise Alliance Program (SEAP) enabling Zecurion to deliver mobile solutions aimed at preventing leaks of confidential data through Samsung Android.
The partnership with Samsung enables Zecurion to provide complete monitoring of corporate information on employees' mobile devices efficiently and cost effectively, thereby preventing data leaks at various stages of information processing, storage, and transfer.
SEAP is an affiliate program of Samsung and supports companies in the use of Samsung products and solutions. Besides support for global marketing and distribution activities, Samsung offers technical support and expertise to its partners to enable development of differentiated mobile solutions that meet customer demands
With the silver partner status, Zecurion now has access to the extended library of the Enterprise SDK from Samsung.
Zecurion Mobile DLP finds copies of confidential documents on users' mobile devices and blocks their transfer via unsecured open networks. All traffic is channeled through a protected corporate network. In the event of theft or loss, the device can be blocked by a security officer.
MHA NG (Mobile Hybrid Analysis Next Generation) is used to detect confidential documents on Android devices. A new version of MHA uses six different technologies for identifying confidential data, including MorphoLogic, a search by dictionary, templates and frequent expressions. The plan for the future is to add support for DocuPrints and SmartID. MNH NG is already correctly identifying over 100 different file types as well as encrypted documents.
For more information about Zecurion DLP Mobile, please call +1 866 581-0999.
About Samsung Enterprise Alliance Program (SEAP)
Samsung Enterprise Alliance Program (SEAP) is designed to provide differentiated benefits to partners according to their various needs. The goal of SEAP is to enable partners in creating new revenue opportunities in the enterprise mobile business with Samsung products and solutions. Additional information is available at visit: http://www.samsungmobileb2b.com.
About Zecurion
Zecurion is a global innovator and leader in security solutions that reduce risk by addressing internal threats. Started in 2001, Zecurion has successfully developed and implemented security solutions providing proven and reliable protection against leaks for more than 10,000 companies around the world. The company's solutions provide comprehensive protection against leakage of information throughout the course of its lifecycle – from creation, to recording and archiving, and deletion. In 2013, Zecurion was included in the Magic Quadrant for Content-Aware Data Loss Prevention by Gartner. Since then, it has also received recognition through the prestigious Golden Bridge Awards and Network Products Guide, as well as consistently ranked highest among developers of DLP Analytics by CNews.
Zecurion and the Zecurion logo are trademarks of Zecurion.