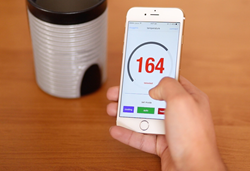 Muggino produces its energy from waste heat, learns your preferences, regulates the temperature of your drinks, and charges your phone.
Melbourne, Australia (PRWEB) September 24, 2015
Will Kickstarter crowdfunding help Muggino revolutionize the beverage industry? Dr. Amir Faraji (PhD, Thermoelectric and Solar Technology, RMIT University), CEO of Otared, Co., thinks so.
Muggino has been patented, the first prototype tested and confirmed, and is now live on Kickstarter, with 40 days left to reach its USD $285,000 goal.
When asked what inspired the invention of Muggino, Mr. Faraji replied, "Years ago, while studying heat and electricity, I often found myself letting a cup of scalding coffee cool, wasting energy, and then I would be concentrating on something so much my drink would get cold before I took my first sip."
Muggino's mobile app allows customers to set their drink preferences from their phone, and the smart mug itself uses saved energy to maintain an individual's ideal beverage temperature, for as long as needed.
As early as 1 AD ancient civilizations used fire to heat their drinks. It took another seventeen hundred years before humans figured the first thing out about electricity. But the ability to convert heat from fire, and in fact cold from ice, into electricity, without noise, movement, or pollution has already become possible thanks to the invention of thermoelectric modules (TEs). Muggino, produced by Otared Co. of Melbourne, AU, uses TE technology to convert the wasted heat from hot drinks into stored electricity.
Each day over four billion (4,000,000,000) cups of hot beverages are consumed around the world. Enough energy is wasted while these cups cool to power the needs of over six million (6,000,000) people.
"It is time to stop throwing this energy away", said Vahid Taslimi, CTO of Otared, Co, "We hope to bring Muggino to customers' hands in the third quarter of 2016".
Organization:
Otared, Co. Melbourne, Australia
Phone: +61 4 01550898
Link: Kickstarter site http://kck.st/1Mv8jOB
Press Contact:
Vahid Taslimi, CTO
vahid(at)muggino(dot)com
Phone: +61 4 49778744
END
###