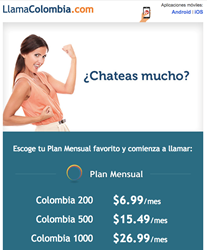 Me encanta, es muy fácil de usar y tiene muy buenas tarifas (Catalina Suarez on Trustpilot.com)
Atlanta, Georgia (PRWEB) September 25, 2015
LlamaColombia.com announces Colombians worldwide about the 3 new monthly plans for international calls to landlines and mobiles in Colombia. The lowest rate on mixed minutes to both landlines and mobiles is 1.9 ¢/min, and that is available with "Colombia 1000" monthly plan. Besides this one, there are two more: Colombia 200, that includes 200 mixed minutes a month to both mobiles and landlines in Colombia for $4.99 /month, and Colombia 500 at $10.99 /month. The only condition to benefit from the low rates is to have a free account on LlamaColombia.com: http://www.llamacolombia.com/
The new plans on LlamaColombia.com were conceived to offer the lowest rates on the market for Colombian expats who need to call their family and friends in motherland. For example, it is only 1.9 ¢/min to call mobiles and landlines in Colombia with "Colombia 1000". For those who are not that talkative, but still need a rate as low as 2.2 ¢/min and plenty of minutes on regular base, there is "Colombia 500." It includes 500 minutes to call both landlines and mobiles in Colombia, that can be used during one month period. The monthly cost is $10.99. If one needs more than 500 minutes, the option is 1000 with "Colombia 1000". It is $18.99 month and comprises minutes to both mobiles and landlines.
There are several clear advantages to use a monthly plan with LlamaColombia.com:
-Monthly plans offer the lowest rates by all means
-Minutes are mixed and one can call landlines or mobiles, only mobiles or only landlines at his/her choice, without any specific boundary except the number of minutes
-There is no contract needed for any of the three monthly subscriptions
-Any plan can be cancelled at any time with no penalties and reactivated whenever convenient
-People can easily upgrade or downgrade a plan according to their needs directly from their account
-One gets Thank You points each month, and those points can be converted into free calls to any destination in the world.
-KeepCalling app is available for smartphone users for calls via the Internet
-Access Numbers are available for calls that don't need Internet connection
-24/7 Support in Spanish and English
-Regular promotions are advertised by email or within the Facebook community: https://www.facebook.com/LlamaColombia
If someone wants to test the calling service on LlamaColombia.com, they need to open an account on the website, and buy a Monthly Plan, or the alternative: Voice Credit for $2. Any transaction is made online, all invoices are listed in one's account, the website's system guarantees 100% security as the labels down the homepage show, and one can pay with any currency, using a major card or PayPal.
Voice Credit, the other calling service on LlamaColombia.com, instead of a Monthly Plan is a good option in several cases. The Voice Credit service offers balance that never expires. But calling prices are a bit different with Voice Credit, ranging from 1.5 ¢/min - 2.9 ¢/min.
The Voice Credit never expires, and the minimum that can be purchased is as little as $2, which brings:
-133 minutes to call Cali
-or 68 minutes to Claro mobiles
-or 68 landlines in the whole Colombia except Cali
-or a mix of all these until one runs out of Voice Credit.
To open an account costs nothing and it is for lifetime. Plus, Thank You points are awarded for each purchase, and can be converted in Voice Credit for free international calls to Colombia or other destination. Such Thank You points are also offered when recommending the service. For example, anyone can get $10 for two friends who start using the service on LlamaColombia.com.
No matter what service one uses to call Colombia (Voice Credit or Monthly Plan), calls can be placed from:

Any phone through the use of access numbers, which case no Internet access is needed.
Any computer with Internet connection through the "Web Call" application in one's account.
Any Android or iOS smartphone using "KeepCalling" free app. Calls placed from the app will use the phone Contacts list if they are saved in international format.
Beside international calls to Colombia or other destination, LlamaColombia.com also offers Mobile Recharge, a service through which customers can top up mobiles anywhere in the Colombia and other parts of the world. Weekly promotions make it easy to send a Bonus along with the main amount ordered. The process is fast and secure and the credit reaches its destination instantly. The mobile operators available for recharges to Colombia are Claro, Tigo, Movistar, UFF!, Virgin Mobile, Avatel, ETB and UNE.
What customers appreciate about any service on LlamaColombia.com is that:
-There are no hidden fees.
-Call quality is high.
-Transactions are 100% safe.
-Paypal accounts are accepted besides all major cards, no matter the currency or country of the sender.
-The service is among the easiest to use on the global market.
-The KeepCalling calling app for Android or iOS is simple and intuitive and free..
-There are regular promotions running on the website.
-The Facebook fans are automatically notified about the on-going promotions as they happen.
-The Customer Service is highly supportive and responsive (reviews prove this) and it is available 24/7.
Customers describe the service as user friendly, reliable, and fast. On Trustpilot.com review platform, Lily M. Escorcia describes it as "un buen servicio para hacer llamadas internacionales", someone else as "Fast and easy", while Carlos M. Rivera says "Excelente en servicio y fácil de usar muy buena". Another review shows the financial aspects and the website's security measures: "Paid with paypal [for the] fast and easy transactions. I did get a call first time I signed up to verify my transaction. Better than most websites which now ask for id [on any] transaction. Crazy websites, but this website is way better."
About LlamaColombia.com:
LlamaColombia.com is an interactive website designed by KeepCalling, a global telecommunications company registered in 2002 in USA. Presently, KeepCalling provides its services to hundreds of thousands of consumers and businesses worldwide, with a focus on customer satisfaction. KeepCalling has been listed by Inc 5000 as one of the fastest growing companies in the USA for 5 consecutive years. In 2015 the company registered a revenue increase of over 200% from 2011 to 2014.