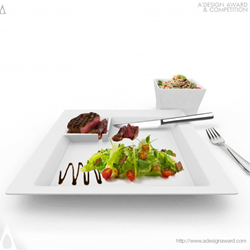 Como, Italy (PRWEB) September 23, 2015
A' Design Award and Competition is pleased to inform that the design project One-Handed Plate Set by Sahar Madanat Haddad has been announced as a winner of the Golden A' Design Award in Differently Abled and Seniors' Assistance Design Competition Category.
Regarding One-Handed Plate Set
Sahar Madanat Haddad, the project leader of the awarded Care project One-Handed Plate Set demonstrated "This plate and bowl set is the ideal tableware solution for one-handed users. Its unique design, allows the user to cut their food directly in their dinning plate, keeping the meal hot and tasty. The ambidextrous design of the cutting edge not only serves as an elegant plate partition, but also an anchor for the bowl. The versatile bowl is fixed into place for ease of use. Allowing the user to enjoy any soup, noodle, salad or snack in a stable and elegant plate setting!" Learn more at: https://competition.adesignaward.com/design.php?ID=39889
The Golden A' Design Award
The Golden A' Design Award is a prestigious award given to top 3% percentile designs that has delivered an exemplary level of excellence in design. Entries to the A' Design Award & Competition are peer reviewed and anonymously judged by a grand jury panel of prominent academics, design professionals and media members following strict evaluation guidelines. Laureates of the A' Design Award & Competition are granted a series of PR, Marketing and Publicity services such as inclusion in Salone del Designer and Design Interviews platforms to celebrate the status of winning the accolades. Laureates are also invited to join the Gala-Night and Award Ceremony in Italy. Award winning works are also exhibited internationally, and their descriptions are translated to all major languages.
About A' Design Award and Competitions
A' Design Award and Competition is organized international in a wide array of creative disciplines and spatial design categories in order to push forward artists, designers and architects from across the globe to come up with superior projects that benefit society. The A' Design Award & Competition aims to create a global awareness for good design by highlighting original and innovative design work from all countries. Discover more about the A' Design Accolades at: http://www.whatisadesignaward.com