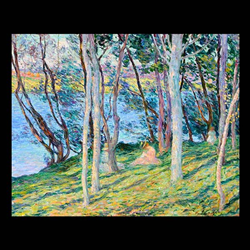 Alameda, CA (PRWEB) September 23, 2015
Commanding the top spot in Michaan's Fine Art, Furniture, Decorative Arts and Jewelry Auction on June 19 was Henri Lebasque's (1865-1937) oil on canvas "Madame Lebasque and her Daughters" (lot 3215, $70,000-90,000). The piece solidified itself as the highest seller of the day at over three times the high estimate with a price realized of $271,400. Rounds of phone bids sprinkled with paddles raised upon the floor pushed the idyllic scene of the artist's wife and daughters by the water among a grove of birch trees to success. This most handsome contributor to the department's bottom line helped fine artworks achieve a total price realized of more than $600,000 in the over $1 million sale.
"The authenticity of the Lebasque was without compromise. A 1986 exhibition catalog featuring the piece from the Montgomery Gallery was included in the lot and Denise Bazetoux had confirmed this painting in the catalog raisonné as well," Michaan's Fine Art Specialist Susan Paffrath said. "A range of important artists performed considerably as seen in the second highest figure of the day, Wojcieck Fangor's M1 that set a U.S. auction record for the artist at $169,400 (lot 3274, $80,000-120,000). Offered sculpture also achieved an 80 percent sell-through, with names such as Erté, Arneson, Snowden and Tuan on the auction block."
The jewelry section of the sale saw a jade and palladium necklace selling for more than six times the high estimate at $37,760 (lot 3150, $4,000-6,000) and a pair of bangles for more than triple their estimations at $20,060 (lot 3147, $4,000-6,000). A certified natural pearl necklace also grabbed bidders' attention, as it sold for more than four times the high estimate for $12,980 (lot 3155, $1,500-3,000).
Kicking off the auction was custom-made jewelry from the Barbara Fouts Collection, with a hefty Queen of Hearts 18 karat yellow gold and diamond bracelet secured for $12,980 (lot 3003, $9,000-10,000). Also from the department were high karat gold offerings of collectible novelty figures and Asian motif objects experiencing a 100 percent sell-through and fine timepieces at an over 80 percent sell-through.
Fine furnishings also provided property of honorable mention in the sale. A lovely Daum Nancy cameo pictorial glass boudoir lamp surpassed estimates, selling for $15,340 (lot 3405, $7,000-9,000) and an Arts & Crafts hall tree fashioned as the Roman god Mercury more than tripled projections at $7,080 (lot 3390, $1,500-2,000).
Michaan's Auctions is currently seeking quality consignments for a fine auction to be held on Dec. 11. Every Thursday in the month of September, Michaan's specialists will offer free and confidential estimates on fine art, decorative arts and jewelry. To schedule a private appraisal appointment, please contact the following:
Jewelry & Timepieces
Rhonda Harness
rhonda(at)michaans(dot)com
510-227-2525
Fine Art
Kyrah Reddey
kyrah(at)michaans(dot)com
510-227-2519
Furniture & Decorative Arts
Elizabeth Dalton
boo(at)michaans(dot)com
510-227-2527
About the company:
Michaan's Auctions is a leading full-service auction house on the West Coast. Specializing in the appraisals and sale of antiques and fine art, Michaan's has specialists in the fields of furniture and decorative arts, modern, contemporary art, European and American paintings and prints, jewelry and Asian works of art.
Established in 2002, Michaan's Auctions holds up to 30 sales each year attracting a broad base of buyers and consignors from all over the world. With one of the largest facilities in Northern California and the Bay Area's lowest buyer's premium, Michaan's offers buyers and sellers the opportunity to preview and bid on many unique and desirable properties. Some of these pieces realized world record prices. In 2005, A.D.M. Cooper's oil painting, Three Graces 1915, sold for a record $21,060 and an Eduard Gaertner oil, German City Street Scene 1831 sold for $266,000.
Michaan's has built its reputation on its ability to accept single items, groups or entire estates with its "no risk consignment policy" free of hidden fees and charges. Michaan's specialists are dedicated to staying current on the latest issues and developments in the market and are committed to providing personalized and professional attention throughout the entire auction process.
For a full listing of upcoming auctions or to view a complete catalog, please visit http://www.michaans.com.