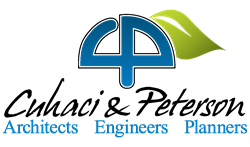 Orlando, Florida (PRWEB) September 24, 2015
Cuhaci & Peterson Architects, Engineers and Planners will have a team attending the Food Marketing Institute (FMI) 2015 Energy & Store Development Conference, occurring September 27th-30th. Joe Keene, Vice President of Mechanical Engineering, Steven Duffy, Vice President of Grocery and Casey Duranczyk, Business Development will be part of the Exchange Sessions that occur both Sunday 9/27 and Monday 9/28, in the Grande Ballroom of Sheraton San Diego Hotel. Cuhaci & Peterson's table number is 82.
Additionally, Steven Duffy will be moderating a Concurrent Breakout session on "The Urban Grocery Store", Tuesday 9/29 from 11:30am-12:30 pm and again from 1:30pm-2:30pm. Joining him on the panel for this session will be Geoff Fitzgerald, Urban Planning Principal at BL Companies, Chris Studach, Store Environments Creative Director for KRS, Joseph Venie, Construction Management Sr. VP at cm&b and Joe Keene, VP of Mechanical Engineering for Cuhaci & Peterson.