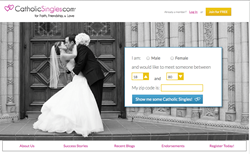 (PRWEB) September 23, 2015
As the World Meeting of Families in Philadelphia gets underway CatholicSingles.com will be there hoping to see Pope Francis along with thousands of other faithful Catholics. "We are very excited the Pope is visiting and being a part of the World Meeting of Families conference is a great way to be connected to all the events here in Philadelphia", says David Nevarez founder of CatholicSingles.com.
Those attending the conference are urged to stop by the Catholic singles booth #350 and find out more about CatholicSingles.com. "Our mission is to bring Catholic singles together in faith, friendship and love from all over the world", says Nevarez. In addition to CatholicSingles.com the company also operates CatolicosSolteros.com a Spanish language version of the site with members from all over North and South America. For more Catholic singles news during the conference visitors can go to http://www.PopeWatch2105.com.
CatholicSingles.com® is the original online site for Catholic dating and fellowship. Founded in 1997 by practicing Catholics, founder David Nevarez met his wife on the site and they have appeared together many times on Catholic programs including EWTN, Telecare TV and SiriusXM's The Catholic Channel. David and his wife Tricia recently celebrated their 4th Wedding Anniversary this past July.