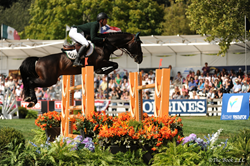 NORTH SALEM, N.Y. (PRWEB) September 23, 2015
More than 5,000 fans came to Westchester County's charming Old Salem Farm in North Salem, New York to see Rich Moloney earn the $215,000 Longines FEI World Cup™ Jumping New York victory during the American Gold Cup held on September 13. The Irish native bested a six-horse jump-off with his careful mount Carrabis Z, opting for a slower round, they were the only pair to leave all the rails intact.
An international field of world-class competitors – representing 14 nations from around the globe and the host country, the United States – made their way to Westchester County for this year's event, which was one of the most competitive in years.
The American Gold Cup received one of the highest television rankings on NBC Sports. It had a .06 Household Rating with 166,000 P02+ (persons over 2 watching) average. In comparison to last year's show, the American Gold Cup more than tripled viewership this year. The event was the 3rd highest rated show on the network, behind other shows that aired that day including a Premier League Game and Pro Football Talk.
"All of us here in Westchester County applaud Rich Moloney for his win at this year's American Gold Cup, one of the most prestigious equestrian competitions in the United States," said County Executive Robert P. Astorino. "We are pleased that he earned this victory right here in our county."
Moloney has been riding his horse, Carrabis Z, for four years and has developed a strong partnership with the 12-year-old Zangersheide stallion. As part of the Longines FEI World Cup™ Jumping North American League, the main event allowed riders to gain valuable points for the World Cup Finals in Gothenburg, Sweden.
"It was great to win here today," smiled Moloney. "My horse jumped amazing. He's been jumping great lately and it's nice for him to get the win here."
Forty athletes qualified for the second event in the Longines FEI World Cup™ Jumping North American League East, which boasts a minimum of $2.4 million prize money across the series featuring the best Jumping athletes from North America and around the world. Ireland's Alan Wade designed the technical track on the Grand Prix Field at Old Salem Farm, which featured 17 jumping efforts that included an oxer-oxer-vertical triple combination and a vertical-oxer double combination.
This year's staging of the 2015 American Gold Cup in North Salem was considered a huge success by all, including the event organizers, Stadium Jumping and Old Salem Farm.
"I don't know how you could get a more picturesque, a more beautiful facility then Old Salem Farm," said Stadium Jumping's Michael Morrissey. "This is the American Gold Cup's home."
For the latest events and happenings in Westchester, log onto http://www.visitwestchesterny.com, like us on Facebook (facebook.com/westchestercountytourism), follow us on Twitter @westchestertour or call 1-800-833-9282. To view the Westchester County Destination Guide, please visit http://digital-editions.todaymediacustom.com/westchester-destination/2015
About Westchester County Tourism & Film
Tourism & Film is Westchester County's official destination marketing organization. Its mission is to generate economic benefits by enhancing the image and promoting Westchester County as a premier business and leisure destination in the Hudson Valley region. The Tourism & Film Office in Westchester County is a division within County Executive Robert P. Astorino's Office of Economic Development.
About the American Gold Cup
Held over five days, the American Gold Cup brings together a diverse group of elite equestrian athletes, discerning horse owners, excited fans and young hopefuls waiting to catch a glimpse of their idols set amongst a fanfare of family-friendly activities, competitions, shopping, entertainment and celebrity sightings. The international show jumping event features high-end shopping located along Old Salem Farm's boutique row. From top-notch equestrian tack and equipment to fashion, jewelry, antiques, art and much more, the scenic outdoor boutiques offer show-goers the perfect opportunity to get some shopping in while taking a break from the competition action.
Old Salem Farm, located an hour north of New York City, boasts a state-of-the-art stabling facility, an historic pristine grass Grand Prix field and outstanding competition and schooling arenas surrounded by one of the world's most charming and picturesque competition venue settings. For the past four years, the North American Riders Group (NARG) has recognized the Old Salem Farm competitions on their NARG Top 25 List.
For more information about the American Gold Cup, visit http://www.theamericangoldcup.com.