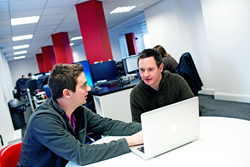 'We've discovered that if you trust the people you work with to do the job in hand, they actually do.'
(PRWEB UK) 24 September 2015
Stockton on Tees based Visualsoft implemented the innovative new benefits package to all staff members in September 2014. It's simple - the employees can take as much time off as they want, whenever they want, and can work from wherever they want, as long as standards are maintained.
One year on from the introduction, Visualsoft has recorded some impressive stats - the company has seen a positive rise in all areas of the business, including staff morale, creativity, productivity and client satisfaction.
The news comes as the UK celebrates National Work Life Balance Week - which aims to highlight the benefits of the well-being and work-life balance of employees across the UK, so that they are engaged, motivated and productive at work - something which Visualsoft are fully supporting.
Visualsoft's CEO Dean Benson said, 'We believe that staff should not be tied down by strict working hours or monitored by their time spent in the office. We introduced this innovative new way of working to give our staff the flexibility they deserve - whether they're working from home, answering emails from a cafe or calling clients on the go, as long as they get the job done, we're happy for them to do as they please!'
He added, 'It's down the employee to decide whether or not he or she wants to come into the office, and also how much time off they deserve, as long as they are satisfied with the job they are doing. In 12 months we've not had a single case of people abusing the system - of course we've had people who have struggled to adjust to the new concept, but those who prefer can still work 9am to 5pm if they wish. We've discovered that if you trust the people you work with to do the job in hand, they actually do.'
Visualsoft employs 204 members of staff across three offices in Stockton On Tees, Newcastle and London. The digital agency has also recently announced that it has acquired a new base in Manchester, which will open next month. Since it was established in 1998, the company has grown at an average rate of 300% per year, and now has a portfolio of over 1000 clients from the UK and Europe.
The company is also due to relocate into its new HQ in Stockton On Tees next month.
In addition to unlimited holidays and flexible working, the company also offers staff free breakfast, free protein and health supplements, and subsidised gym memberships to keep employees healthy and motivated. For more information about Visualsoft, visit http://www.visualsoft.co.uk/careers.