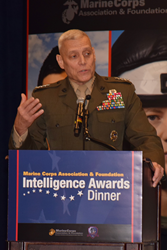 Arlington, Virginia (PRWEB) September 24, 2015
The Marine Corps Association & Foundation held the 5th Annual MCA&F Intelligence Awards Dinner in coordination with Brigadier General Michael Groen, Director of Marine Corps Intelligence. The dinner, held at the Crystal Gateway Marriott in Arlington, Virginia, provided the opportunity to recognize top performing leaders in the Marine Corps intelligence community in 2014.
The evening's guest speaker, General John M. Paxton, Jr., Assistant Commandant of the Marine Corps, spoke about the superb quality of Marines serving in the intelligence community, the challenges they face and the solid accomplishments they achieve providing integrated intelligence support to Marine Corps forces world-wide.
Following his remarks, General Paxton helped present the evening's awards which included the following:

The 2014 LtCol Kuszewski Marine Corps Intel Officer of the Year Award, sponsored by Palantir and the Marine Corps Association & Foundation, was presented to Major Benjamin J. Grass
The 2014 MGSgt Plott Staff Non Commissioned Officer of the Year Award, sponsored by Hewlett Packard and the Marine Corps Association & Foundation, was presented to SSgt Brian D. Wiggins
The 2014 MSgt Arndt Non Commissioned Officer of the Year Award, sponsored by Harris and the Marine Corps Association & Foundation, was presented to Sgt Jeffrey T. Fussell
The 2014 LCpl Swain Enlisted Marine of the Year Award, sponsored by Textron AIS and the Marine Corps Association & Foundation, was presented to LCpl Corey C. Lewis
The 2014 Guenther Intelligence Civilian of the Year Award, sponsored by ManTech and the Marine Corps Association & Foundation, was presented to Mr. Garrett Jones
The 2014 Director of Intelligence Innovation Award, sponsored by CSC and the Marine Corps Association & Foundation, was presented to the Full Motion Video Optical Navigation Exploitation Development Team
The 2014 Director of Intelligence Unit of the Year Award, sponsored by Battelle and the Marine Corps Association & Foundation, was presented to 1st Radio Battalion
The 2014 Language Professional of the Year Award, sponsored by General Dynamics Information Technology and the Marine Corps Association & Foundation, was presented to Sgt Nielsen J. Rivera
The 2014 Command Language Program of the Year Award, sponsored by BAE Systems and the Marine Corps Association & Foundation, was presented to 2d Radio Battalion
The 2014 Major General Ennis Award for Literary Excellence sponsored by FCN/NetApp and the Marine Corps Association & Foundation, was presented to Col Drew Cukor, Col Matthew Jones, Capt Kevin Kratzner and 2dLt Sy Poggemeyer
Pictures, video and feature stories about the event can be viewed at https://www.mca-marines.org/gallery/intel-awards-dinner-2015
The Marine Corps Association & Foundation is the preeminent association and foundation for all Marines and friends of the Corps dedicated to the development and recognition of professional excellence and expanding the awareness of the rich traditions, history, and esprit of the United States Marine Corps. The MCA&F Advances Leadership and Recognizes Excellence by hosting award ceremonies, facilitating Commanders' Forums, delivering Commanders' Unit Libraries, publishing and distributing the Marine Corps Gazette and Leatherneck, and by providing quality uniforms and accessories at the best value. The MCA&F understands and respects the achievements and sacrifices made by Marines and their families while serving this great nation. For more information, visit http://www.mca-marines.org