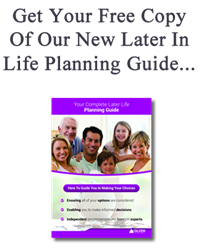 Making plans for later in life, ensures that families remain in control and emotionally and financially secure for the future.
(PRWEB UK) 24 September 2015
As the years move along, the inevitably of old age looms ever nearer. Quickly moving from youth, through adulthood and all of a sudden, life evolves into an era when retirement may be just around the corner. It only makes sense that a certain amount of planning needs to take place in order to make certain that preparations are in place for the road ahead, whilst families are likewise taken care of in the event of a loved ones passing. This is especially the case in Great Britain as the so-called "greying population" continues to grow. What are some of the main issues that should be addressed well in advance to ensure that financial and emotional affairs are in order? Let's take a closer look.
Elderly Care
It is an unfortunate fact that many people are likely to need to be cared for later in life. So, it is important to take a look into various services such as at-home, residential and nursing home care. Depending upon the individuals needs, one type may very well prove to be more suitable to one person than another. It is important to recognise that these options can be quite expensive and specific types of insurance may well be required to provide adequate protection in many cases. These are some of the issues that are discussed in great length when planning for retirement with Silver Choices. Families if prepared, will be able to make the best decisions possible based around unique individual needs. Planning for retirement should always include considering the following topics.
Arranging a Lasting Power of Attorney
Arranging a power of attorney is another key factor that should never be put off. What happens if someone dies suddenly and there is no one to legally execute that persons wishes? Or, instead an injury occurs and a person no longer has the mental capacity to make decisions. Without a power of attorney, disputes can quickly arise, while major issues such as estate management can suddenly turn into battles between other family members. So, it is a good idea to make certain that arrangements assign these responsibilities to someone trusted, while the person is still of sound mind and body. There are many documents and other types of legal resources that will be required, so it is always wiser to speak with a professional who has a great deal of experience in this area.
Securing a Will
Along with the power of attorney, writing a will is another key step that should never be overlooked. In this legally binding statement, the person making the will is able to stipulate how to distribute assets and the estate in a way that they see fit. Let's also not forget that consulting with friends and family members during the process is the best way to avoid a messy and debilitating legal battle further down the line. There are likewise many different areas that a will can address. While these will naturally depend upon unique situations, some metrics that are normally included within a last will and testament include:

The distribution of personal belongings.
Designating who will remain in control of home and property (this could also be split between multiple individuals).
The custody of any children.
Conditional gifts (such as a trust fund after reaching a certain age or graduating university).
A will is a legally binding document and it should therefore be registered with the appropriate authorities. Once this is done, it needs to be kept in a safe and secure place until the time comes that the person dies or becomes severely incapacitated.
Later-Life Planning and Funeral Plans
While all of the previously mentioned concerns need to be attended to, we need to remember that the physical logistics of planning and paying for a funeral are just as important. In fact, this is even more of the case when considering that the cost of even the most basic of ceremonies has risen dramatically in the last decade. According to recent figures released from Halifax, this trend is expected to continue well into the future. Barring the off chance that independently wealth can provide for a single upfront payment being made to cover the costs of a funeral. It is important even in that situation that a funeral prepayment plan fixes the costs at today's rate. When considering a plan, it is important to decide if an elaborate ceremony is desired, if so this can easily equate into many thousands of pounds. This is where the power a well-chosen funeral plan becomes very clear.
Utilising a reliable source to compare funeral plans easily and accurately. Not all providers are alike and based upon needs, there will normally be several different options to choose from. There are also varying levels of financial plan cover. Plans can be paid for by a single payment or as is being seen in many cases toady, people around the age of 55, are starting to pay ahead by fixed, low cost monthly payments, which secures the cost of the funeral at the price that it is on the day that the plan commences. Upon death, the family will not need to be concerned with finding the money required to pay for the funeral costs, as the plan provider will pay the funeral directors costs directly and provide an allowance to cover third party expenses like doctors fees and other elements which are included.
There are also several questions that should be always asked when using the services provided by funeral plans comparisons experts. To keep things simple, let us address a few. First, what are the levels that can conceivably afford to pay in terms of monthly payments? Does the plan provide for fixed low cost monthly payments? Can the plan be paid off earlier if required and if so, how much would the potential savings bee? How flexible is the provider and are they able to cater to personalised requirements? Finally, what is the overall reputation of the plan provider, is the money held safely in trust? These are some of the basic questions that should be addressed during any decision-making process.
So, later-life planning is critical for protecting families for whatever may lie ahead. While such steps are certainly logical, it is just as important to remember that these processes will provide peace of mind in knowing that even if one should suddenly become incapacitated, then loved ones will be well provided for and protected. Lasting power of attorney, writing a legal will and comparing funeral plans from different providers are all extremely important tasks that should not be put off another day. It is critical to take these needs seriously - Comparefuneralplansuk.co.uk have experts on hand to help.