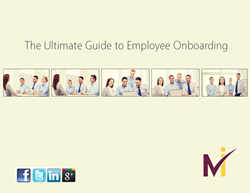 Companies invest a lot of time and money finding and hiring the right people, but we've seen so many of them fail because there was no or little investment in onboarding
(PRWEB) September 24, 2015
The McQuaig Institute today released The Ultimate Guide to Employee Onboarding, a comprehensive guide to help HR and business leaders adopt best practices for integrating new hires into their workplace.
The McQuaig Institute, a leading talent management solutions and pre-employment assessment provider, pulled together best practices from around the globe and proven strategies from its own clients to make it easier for HR leaders to pick the aspects that will work best for their workplace.
"Companies invest a lot of time and money finding and hiring the right people, but we've seen so many of them fail because there was no or little investment in onboarding," said Ian Cameron, Managing Director. "We hope this guide will help companies of all sizes make some simple changes that can a big difference."
The process of integrating a new hire into a company has multiple stages and lasts for up to, and sometimes beyond, 12 months. The Ultimate Guide to Employee Onboarding breaks the process up into four key stages:

Pre-hire
Day 1
Day 2 – 3 months
3 months – 1 year
In each section it provides:
Best practices to increase employee productivity and satisfaction
Valuable tips for HR and hiring managers
Simple action lists to make your next steps easy
Special Section on Executive Onboarding
The impact of a new executive hire or promotion on a company is huge. Yet, 40 percent of new leaders fail within the first 18 months. The guide includes a special section on executive onboarding that looks at why these leaders fail and provides tips and best practices to help ensure success in their new role.
Download a free copy of The Ultimate Guide to Employee Onboarding at http://McQuaig.com/employee-onboarding.
About the McQuaig Institute
The McQuaig Institute offers a simple, accurate talent assessment system and ongoing support that empowers employers to hire, retain and develop the right people. The McQuaig System delivers reduced turnover and increased productivity through more efficient teams and more engaged employees. Pre-employment testing can be a strong predictor of future performance when matching a candidate to a valid job profile. McQuaig will provide you with a well-defined process that delivers the most value to your company. More at http://www.mcquaig.com.