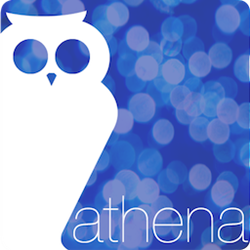 It is a privilege each year for Athena to reward the academic excellence and commitment to learning displayed by students like Jody Benninger in the social work program at Laurier.
Waterloo, Ont. (PRWEB) September 23, 2015
Athena Software (http://www.athenasoftware.net) is very happy to announce that Jody Benninger is the 2015 recipient of the Bernard Porlier Social Work Scholarship, an annual award given to a student in the Masters of Social Work (MSW) program at Wilfrid Laurier University (WLU) in Waterloo, Ont.
The $2,000 award is given each year to a student in the two-year part-time or four-year full-time MSW program at WLU who pairs strong academic achievement with excellence in the field related to the wellbeing of families in the community.
"It is a privilege each year for Athena to reward the academic excellence and commitment to learning displayed by students like Jody in the social work program at Laurier," said Neil McDonald, communications and marketing associate at Athena Software.
"It is also our honour to celebrate the career of Bernard Porlier, whose contributions to social services have had such a positive impact on the lives of countless families in Waterloo Region."
The award was established by Athena Software in 2008 and is named after the former executive director of K-W Counselling Services in Kitchener, whose contributions to the lives of families and individuals in Waterloo Region is commemorated by the award.
"Laurier and the Faculty of Social Work are very thankful that, since 2008, Athena Software has provided this scholarship to support outstanding Master of Social Work students," said Nick Coady, Dean of the Faculty of Social Work at WLU. "This scholarship both recognizes the contributions that Bernard Porlier made to the well-being of families and encourages students to emulate his example."
Jody's path to the social work program at WLU came after extensive experience in the field around the world. Born in the small village of Formosa, Ont., Jody completed an Honours Bachelor of Arts degree at Carleton University in Ottawa before spending her post-graduate years travelling and working in social services across the globe.
"I have done an array of social service work in different countries, including developing ones," said Jody. "While in developing countries, I experienced how access to basic necessities is a significant social justice issue of its own. I had to set aside my 'Canadian' lens, decelerate my pace and accept how rare it is, that work be done independently.  I was part of teams that truly collaborated, brainstormed and ensured sustainability in all aspects. We trained local community members with necessary skills to carry our work forward. Through these experiences, I learned the importance of broadening my knowledge base, while being innovative in how I provide services."
Overall, Jody spent 13 years in the sexual health field after graduating from Carleton, including stints working in the U.S., Africa and finally with the HIV / AIDS Committee of Waterloo Region (ACCKWA), where she spent five years as the full-time community education supervisor. In this role, she provided prevention education on sexually-transmitted diseases, as well as providing counselling for unplanned pregnancies. Eventually, however, she made the difficult decision to return to school.
"I thoroughly enjoyed my career and the challenges it brought," said Jody. "However, I also felt that it was time to expand my knowledge and leap out of my comfort zone again, in pursuit of new challenges and personal growth. So I mustered up all the courage I had and applied for the Master of Social Work degree program at Wilfrid Laurier University and received an early offer. I truly believe my years of doing both community development and social justice work played a significant role in my acceptance into Laurier's competitive program."
Jody said her time at WLU gave her academic insight into the lessons she had learned as a social worker in the field.
"My experience in the social work program at WLU was an eclectic one. I enjoyed learning from my peers in my cohort, from my professors and from my practicum placements. The critical thinking skills I gained alongside applying essential, theoretical models, informs the way I understand human nature and engage with others. I have learned and accept that I can change no one but me. Therefore, if I embody an inclusive conscience mindset and work from that position, there is the potential for others to do the same," she said. 
"Power and privilege are not common positions that all community members have access to. Everyone has their own struggles and is doing the very best that they can. I have spent significant amounts of time working with marginalized populations such as at-risk youth, those who are street-involved, GLBTQ, newcomers, sex workers, prison inmates, migrant workers, those suffering from addictions, concurrent disorders and those who are HIV-positive, to list a few."
"In working with such diverse populations, I have learned that truly we are more alike than we are different. Every human being wants to be heard, seen, acknowledged and have their humanity reflected back to them in a compassionate way. This starts with me."
With graduation behind her and MSW degree in hand, Jody is now dedicating herself to finding the next stop on her already rich and varied career.
"I trust that in life, we end up where we're meant to be and I choose to embody that philosophy as best I can at this transitional time in my life," said Jody. "I would like to thank Athena Software for their ongoing, generous support in making my receipt of this award possible."
Added Jody: "Receiving the prestigious Bernard Porlier award for 2015 was such an honour, given Bernard's significant contributions to the wellbeing of families in Waterloo Region," said Jody. 
"This award affirms that I made the right decision in leaving my full-time career in sexual health, returning to grad school at age 35 and immersing myself entirely into my graduate studies. It was an opportunity of a lifetime which I am grateful for, and forever changed by."
About Athena Software
Athena Software (http://athenasoftware.net) is a case management software provider based in Waterloo, Ont., Canada. Since 2001, Athena has grown to partner with hundreds of organizations across the globe, with over 17,000 end users of its Penelope case management software solution.