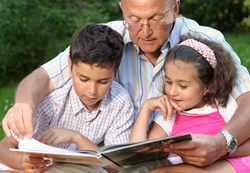 White Plains, NY (PRWEB) September 24, 2015
As part of their commitment to serving the local community, Littman Krooks LLP will host a workshop on special needs trusts, the essential estate planning tool for individuals with special needs.
Building financial security is an important consideration for the family members and friends of individuals with special needs. A special needs trust is an estate planning tool that protects funds intended to enrich the life of a loved one with special needs, while preserving eligibility for public benefits.
This workshop will be held on Wednesday, November 4, 2015 at the Auditorium, 800 Westchester Ave, Rye Brook, NY 10543. There will be two sessions: 2:00PM – 4:00PM and 6:00PM – 8:00PM.
Littman Krooks attorneys Bernard A. Krooks, Amy C. O'Hara, Elizabeth Valentin, Marion M. Walsh, and Giulia Frasca will present current information about special needs planning. Topics will include the importance of a special needs trust and its role in an estate plan; coordination of government benefits; guardianships and advance directives; review of the ABLE Act; transition planning and the IEP.
The workshop is co-sponsored by local organizations including the Arc of Westchester, Huntington Learning Center, Miracle League of Westchester, New Frontiers in Learning and Pegasus Therapeutic Riding. These organizations will be in attendance at the workshop and will provide information about their services.
There is no charge to attend this workshop but registration is required. For more information and to register please visit http://www.littmankrooks.com/special-needs-trusts-workshop/.
About Littman Krooks
Littman Krooks LLP provides sophisticated legal advice and the high level of expertise ordinarily associated with large law firms along with the personal attention and responsiveness of smaller firms. These ingredients, which are the cornerstone of effective representation and are necessary to a successful lawyer/client relationship, have become the foundation of the firm's success.
Littman Krooks offers legal services in several areas of law, including elder law, estate planning, special needs planning, special education advocacy, and corporate and securities. Their offices are located at 399 Knollwood Road, White Plains, New York and 655 Third Avenue, New York, New York. Visit the firm's website at http://www.littmankrooks.com.