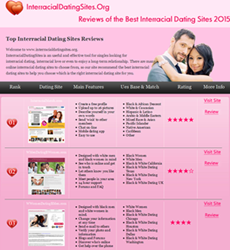 (PRWEB) September 25, 2015
Interracialdatingsites.org, a web portal that lists interracial dating sites, recently listed and reviewed the top interracial dating sites. The web portal administrators said that they have used three metrics for comparing and reviewing the sites that are now listed on their portal. They also indicated that the list will be updated at regular intervals.
One web administrator responsible for aggregating the information on different interracial dating sites revealed that the three metrics for reviewing are membership base, features and effectiveness and value for money. When asked to explain the metrics that they use for reviewing interracial dating sites, he said that they first check how many members are actually active on the site. He added that this evaluation is necessary for spotting sites with too many fake users. "After that, we take into consideration the features and their effectiveness for each site. If an interracial dating site has a good mobile application, it will climb up the rankings and so on. Lastly, we do take into account the membership fees so to understand how much value for money each dating site offers," he fleshed out.
Interracialdatingsites.org contains quick backlinks to each of the interracial dating sites listed on the web portal. The owners said that they aim to send more traffic to the dating sites and confirmed that a number of online dating enthusiasts use their site every day for comparing different dating sites. The dating site reviewers also dole out tips on interracial dating, safety tips, facts and figures on interracial dating trends etc. The owners claimed that their online portal does not promote or show bias towards any dating site in particular. They said that they want to make online dating safe and enjoyable for the first-timers.
"Honestly, we do not review interracial dating sites for people who already have some experience of interracial dating. We do review these sites for people who are new to the world of online dating or interracial dating. We believe that the right information can make decision-making a lot easier for people who are dating for the first time," claimed the CEO of Interracialdatingsites.org during a recent press conference.
About the Site:
Interracialdatingsites.org is an online portal that indexes and reviews interracial dating sites in particular.
To know more, visit http://www.interracialdatingsites.org/