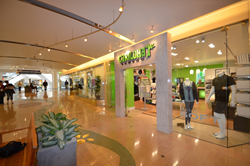 Portland has a very environmentally conscious and sustainably focused demographic.
Portland, Oregon (PRWEB) September 24, 2015
The first Cariloha store in Portland is opening in Pioneer Place Mall at 700 SW 5th Ave Ste. 1295 with a grand opening celebration that includes any Cariloha customer receiving a free bamboo lei just for stopping by the store, along with several other bamboo product giveaways for lucky customers.
Store visitors will also enjoy experiencing Cariloha's entire line of bamboo products, including men's and women's apparel, bedding, bath goods, fitness wear, handbags, and more, all made from eco-friendly bamboo fabrics. Cariloha's flagship products include irresistibly soft bed sheets, bath towels and shirts.
The name "Cariloha" comes from a combination of "Cari" for Caribbean and "loha" for "aloha" from Hawaii: the Cariloha bamboo concept was inspired by the breezy, relaxed lifestyle of the islands. Cariloha is the only multi-store retailer in the world to provide an entire store experience that's completely merchandised with products made from bamboo fabrics. Bamboo is one of the most renewable resources on the planet and produces more oxygen than a comparable number of trees.
Cariloha Portland store owner, Harish Patel, first experienced the softness of Cariloha bamboo while visiting Aruba with his family. He was impressed by both the quality of the products and corporate values. He will be staffing his store with local staff members and corporately hired interns.
"Portland has a very environmentally conscious and sustainably focused demographic," said Patel. "I'm confident that Cariloha will be a great match for Portland's identity. Pioneer Courthouse Square is the living room of Portland and in the heart of Portland, which makes it an ideal location for Cariloha products."
Bamboo clothing and linens offer unique benefits. It's 3 degrees cooler than cotton and wicks moisture away from the skin. It also repels odors and allergens naturally without any harmful chemicals. Above all, bamboo fabric is unbelievably soft compared to luxury fabrics like cashmere and silk but without the luxury fabric price.
"Customers in this area are looking for natural, eco-friendly products that will meet their demands for luxury, style and performance," Patel said. "Cariloha's staff is dedicated to providing a unique, educational shopping experience by using display panels that help to inform customers of the bamboo features and benefits of the comfortable, green fabric."
Cariloha staffers also encourage visitors to touch and feel the bamboo-soft difference of their shirts, bed sheets, towels, and hand bags for themselves.
Cariloha has been rapidly expanding its international and domestic presence for the past seven years now with 19 corporately owned and 34 independently owned stores in 14 countries. Other stores are found in Mexico, Grand Cayman, Jamaica, Barbados, Aruba, Curacao, Honduras, St. Maarten, Bahamas, Antigua, Bonaire, Jamaica and various cities throughout the continental U.S., Alaska and Hawaii.
"When you think of bamboo, large green shoots in the jungle somewhere likely come to mind," said Jeff Pedersen, Cariloha President and CEO. "Not many people know that bamboo can actually be made into irresistibly soft fabrics for making apparel and other goods at little‐to‐no risk to the environment. It's one of the most renewable, sustainable resources on the planet."
###
About Cariloha
Established in 2007, Cariloha is the only retailer in the world to provide an entire store experience that's completely outfit with merchandise made of bamboo. The product line features an exclusive collection of apparel, accessories, bedding and bath goods and more all made from bamboo. Cariloha's soft, breezy bamboo goods were first sold in three, full stores in Ocho Rios, Jamaica; Cozumel, Mexico; and St. Thomas, USVI. Since the first three stores in 2008, Cariloha has already opened stores in 14 countries and continues to grow. Cariloha has quickly become one of the fastest-growing merchants promoted on board Carnival, Celebrity, Disney, Princess, Royal Caribbean and Norwegian Cruise Lines. Today, thanks to an ever‐growing, rich supply of bamboo, Cariloha continues to offer an exclusive collection of products, all enjoying the strength, soft touch, and green 'footprint' of this renewable resource.